(via Elle Decoration, photography by Andrea Papini)
One week late but as I promised on Instagram, I am joining in the One Room Challenge for the fourth time (see Spring 2015, Fall 2015, and Spring 2016). Like last spring's project I'll be tackling another bedroom design, this time for my older sister! I am so excited to share my plans for this room, which I've been working hard to pull together. I have an amazing group of sponsors this year, including Pine Cone Hill bedding from Annie Selke, a pretty patterned hide from ArtHide, fabulous framing by Framebridge, chic art shelves from Minted, desk legs from PrettyPegs, shades by The Shade Store, throw pillows from Shelby Dillon, lots of great lighting from West Elm, and a lush headboard from World Market. I'm channeling a more classic look for this room, with a fresh twist of cool colors and modern accessories (like all the pretty brass lighting). Click through for an in-progress/before picture and some previews of the new design below!
SHOP THE LOOK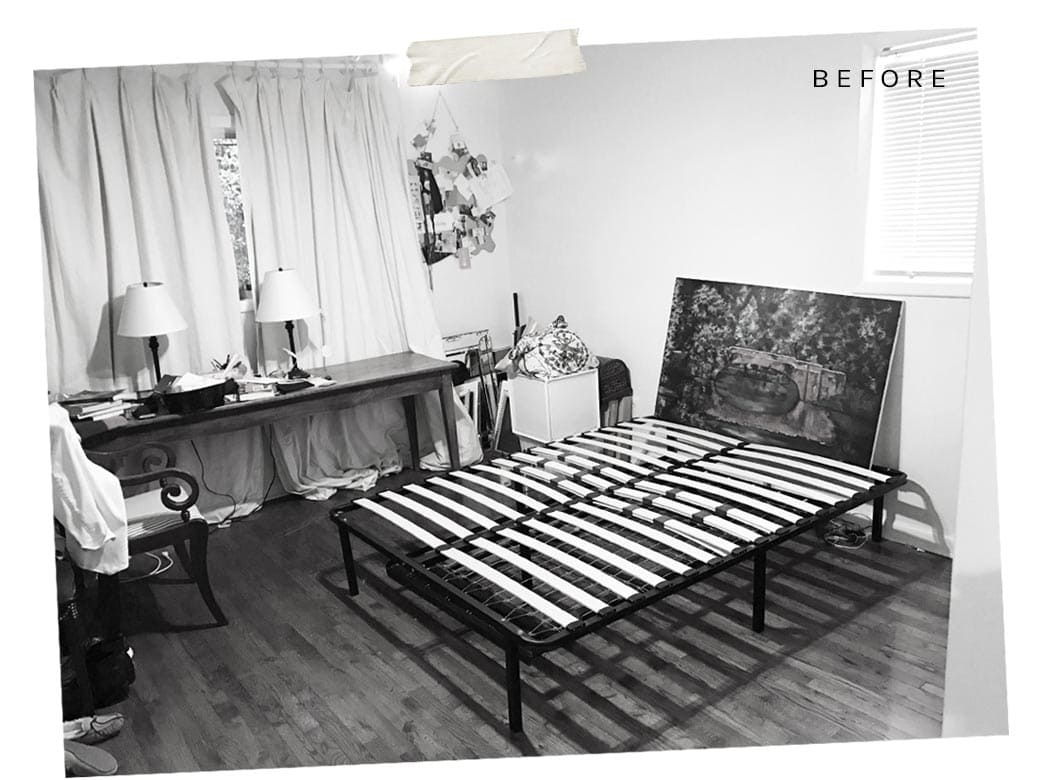 This before picture was taken after I'd already started on the project – I always forget these important documentation steps in my imaptience to start designing! Her original bed was a twin sleigh bed and the huge farmhouse table, heavy curtains, and ceiling fan (not pictured) just weren't working together well. Plus, it was time to switch that twin bed out for queen! I basically started from scratch in here with a new bed, new desk, new window treatments, and re-thought the lighting in the room for a classic, layered design that would make more efficient use of space in the room. See what I'm planning for the design below…

Mirrored frame from Framebridge
Pillows from Shelby Dillon
Shade from The Shade Store
Hide rug from ArtHide
The bed area starts out traditional with a velvet tufted headboard, the Trio bedding, and plaid sheets-turned-curtains, but takes a twist with Shelby Dillon's playful pillows, sleek modern lighting, a patterned rug, and the mod mirrored frame with one of my own photos.

Burl frame from Framebridge
Desk legs from PrettyPegs
Shade from The Shade Store
Hide rug from ArtHide
The desk area carries over the dark green from the headboard with the PrettyPegs legs, and the blue with the pretty patterned roman shade (Winding Leaves in Lapis). More pretty lighting and a pair of white bistro chairs will add seating to this vignette, and lots more art makes its way into this part of the room with Minted's pretty copper art shelves. I also added a print to the desk, framed by Framebridge, to style on the desk.
So excited to see what everyone's been up to for week two of the ORC – check out all of the linking participants on Calling it Home! Thanks to Linda and House Beautiful for hosting another season of this fun design challenge.

Product for my One Room Challenge was sponsored by the following brands: Annie Selke, ArtHide, Framebridge, Minted, PrettyPegs, The Shade Store, Shelby Dillon, West Elm, and World Market. Thank you for supporting the brands that keep Thou Swell running!