I love incorporating flowers into a Valentine's Day table in unexpected ways. Freezing your florals into an ice bowl is definitely one way to do this! It's surprisingly easy to create this elegant addition for your next soirée – the hardest thing about it is being patient. It's better to be safe than sorry when putting a block of ice on your table, so making sure it's frozen solid will ensure a longer lifespan out of the freezer. Other than that, all it takes is two bowls, a bouquet of flowers and/or greenery, and space in your freezer to make this eye-catching bowl. See the full directions after the jump!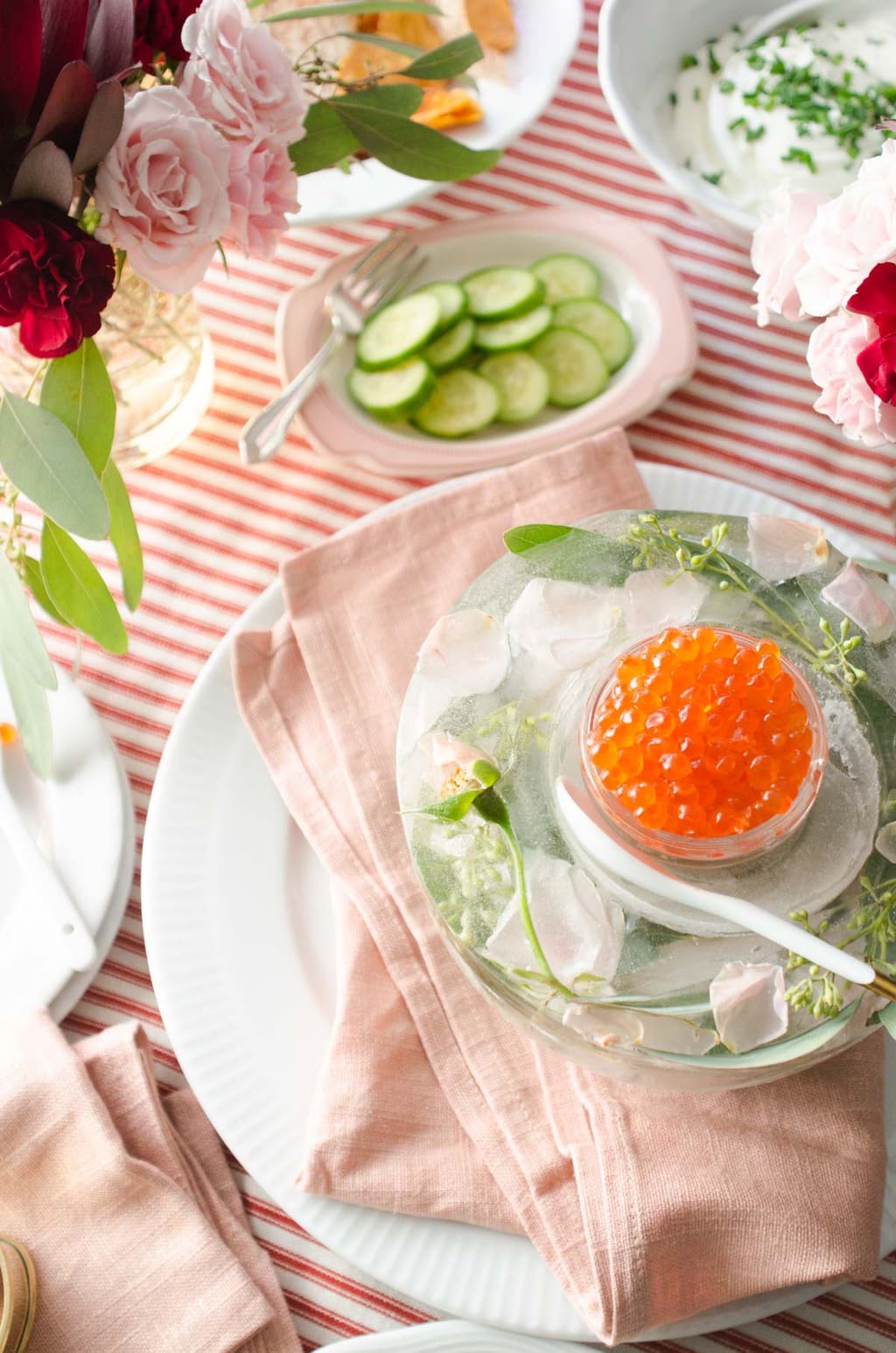 DIRECTIONS
1. Gather materials. You'll need one small bowl, one smaller bowl to create the crater to serve your roe or other food, and the flowers and greenery to freeze in the ice.
2. Start by placing your flowers/greenery inside your larger bowl, about 2/3 – 3/4 of the way up the sides. Imagine how you want the branches to be seen through the ice and place accordingly. Make sure there aren't many leaves or stems sticking above the edge of the bowl (or close to it at all). When in doubt, add more to the bowl for the biggest impact, because the water becomes slightly opaque once frozen.
2. Once you've placed your florals, fill your bowl about 3/2 – 3/4 of the way full with water, depending on how thick you want the bowl to be. For my bowl, I didn't need a very deep crater at the top to hold the bowl of roe, so I filled it 3/4 full.
3. Set your bowl in the freezer for 6-12 hours, making sure you're placing it on a level surface. Depending on how large your bowl is (and how patient you are) your bowl may start to freeze in just a couple of hours. As long as it's mostly frozen (feels at least halfway solid), you can move on to the next step.
4. Place your smaller bowl on the middle of the first frozen layer, then place the next layer of florals around it, all the way to the top of the larger bowl. Fill this layer with water, and freeze overnight to ensure that your bowl is completely solid.
5. When you're ready to use your ice bowl, just fill the smaller bowl with warm water to remove it, and run warm water over the outside of the larger bowl to loosen the ice. Plate the bowl on a napkin to soak up any melted water, and enjoy your frozen arrangement with a scoop of roe!