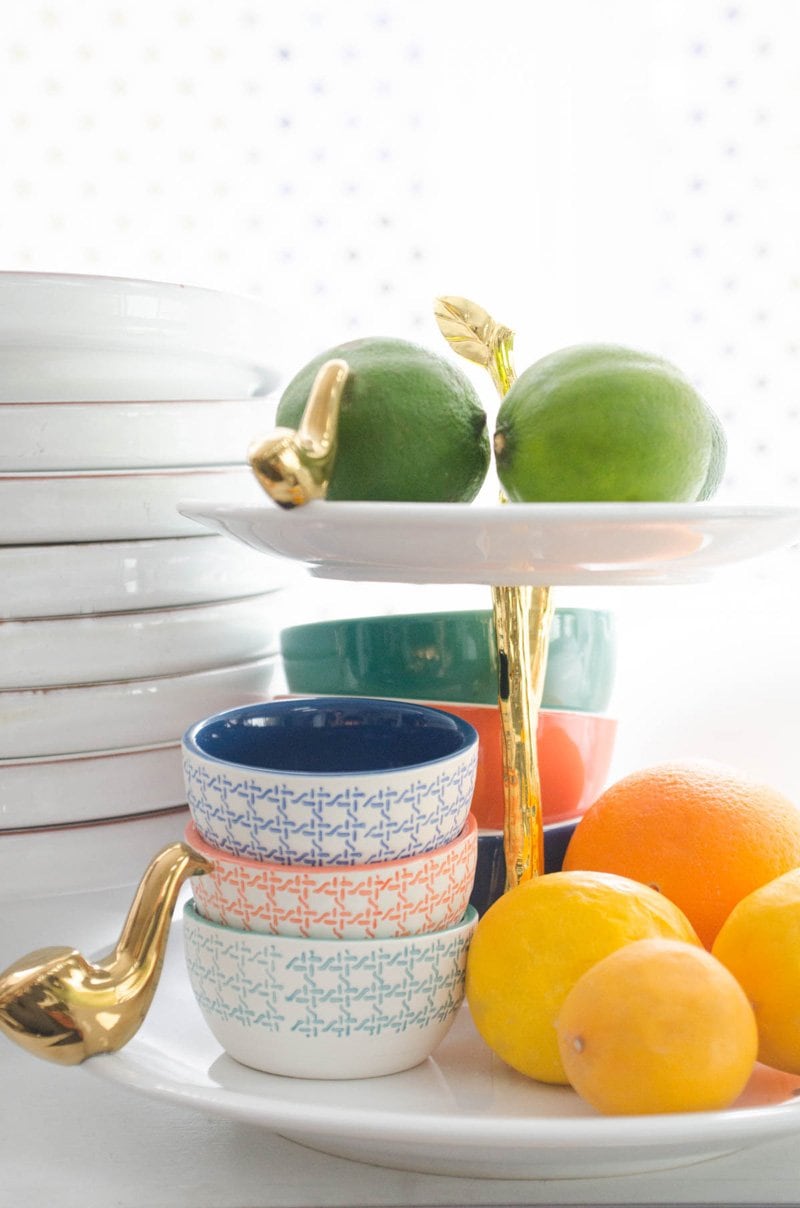 How do you do… January? As the New Year begins and resolutions start to take shape, I'm excited to partner with Target and bring you a few words on intentional eating with my food contributor Almila Kakinc and some style inspiration from a couple of my favorite new pieces in Target's kitchen and tableware collections. With colors and patterns adding an energizing pop to the kitchen, who wouldn't want to cook more often?
Mornings are such a sacred time to resolve each and every day to commit to a healthier year. The kitchen can seem a daunting place, but there's nothing to fear with simple, healthy meals and chic kitchen utensils. Here is my guide to the first meal of the day, to lead you into the kitchen and to help you rise, sunny side up… – Almila
FIRST THINGS FIRST
Many people enter into the year resolving to drink more water. Hydration levels are the most sensitive upon waking after hours of sleep, making morning the best time to flush the body with water. Beginning the day with a glass of warm, filtered water and lemon juice will rejuvenate the body with alkalinity. Make sure you use warm rather than hot water for not only a gentle digestive awakening, but also so as to not kill the enzymes of the fresh lemon juice with heat. This first drink of the day is also a good time to take any morning supplements such as private label lion's mane, Vitamin B complexes, Iron, or Ginseng to help you freshen up and feel awake.
START THE DAY RIGHT
Eggs can be a quick yet wholesome way to fuel yourself for your day. Try whipping your eggs up with fresh herbs for digestive support, such as a sprinkle of parsley and rosemary or bitters such as detoxifying dandelion, fennel, and nettle. A little tip: whisk them at room temperature in a copper bowl as the French do for fluffier fare. Take the time to sit and enjoy an intentional meal. A great way to encourage this is to have beautiful utensils, such as this elegant grey set, to serve your eggs on a beautiful handmade plate, or to enjoy a bowlful of hearty homemade granola in an energizing bowl. Beautify your surroundings to make your commitment to resolutions easy.
FOR YOUR SWEET TOOTH
Sometimes we crave a sweeter wake up. In that case, you can serve yourself a healthy bowl of cultured coconut yoghurt with a side of stewed stone fruits (such as plums) and cinnamon for added support. Another option is a warm sweet potato—my favorite are the Korean purple ones—with a drizzle of coconut oil or coconut butter, or a savory pairing of tahini and sprinkling of pepitas. Just make sure they're sprouted for digestibility and to avoid anti-nutrient phytic acids—I love these JEM sprouted nut butters.
DRINK TO YOUR HEALTH
Getting more dark leafy greens in can feel overwhelming if you don't know how to cook your bounty, or don't have the palate for it. Juicing leafy greens with high water content vegetables such as cucumbers is a nutrient-dense and bioavailable way to meet your healthy resolutions. See my favorite nutrient-packed green juice recipe below. Another option that is warming for the season is making an almond milk latte with black tea or coffee in a Nutribullet. Adding two teaspoons of coconut oil to your latte will provide you with not only a frothier, creamier latte but also a more sustained release of caffeine.
Almila's Green Juice
2016-01-21 03:07:04
Ingredients
2 lemons
1 large cucumber
1 large bunch of kale
1/2 bunch of parsley or cilantro for detoxification
1-inch knob of fresh ginger for digestive support
Instructions
Use an electric juicer or blender and strainer to freshly juice the ingredients, then enjoy for a fresh dose of morning produce!
Thou Swell https://thouswell.com/
SHOP THE LOOK

Find your style @TargetStyle

This post is sponsored by Target but all text, images, and opinions are my own. Thank you for supporting the brands that keep Thou Swell running!