This post is sponsored by Soraa, but all text, images, and opinions are all my own. Thank you for supporting the brands that keep Thou Swell running!
Never before have there been so many choices when it comes to the light in your home. And never before have we known so much about the quality of light and how it affects us! I'm excited to share a bit about the latest innovation in lighting – Soraa light bulbs. Introduced in February from one of the most trusted brands in professional lighting (full-spectrum LED, to be exact), these new light bulbs are made for residential homes but have all the amazing technology that goes into the lighting in museums, galleries, and luxury retailers. They've created two types of LED light bulbs; Soraa Radiant and Soraa Healthy. "Standard LEDs don't show color as it is meant to be seen. Great light has the unique ability to create depth and emotion, and when a space is lit properly, it can change the entire feel of it," says Soraa CEO, Jeff Parker.

I created three little vignettes in our home to with different lamps to share the beautiful moments that can come together around the light fixtures in our home, and emphasize the importance of choosing and placing your lights! We mainly rely on ambient light as we don't have recessed lights in the ceiling, so these lamps are so important to our decor and daily routines in the house. Check out my vignettes and learn more about the benefits of the Soraa bulbs below!
The Radiant bulbs are designed to show color like never before to fill the gaps in the color spectrum that standard LED bulbs create. This especially impacts how we see reds – which is why our skin tone never looks as good under standard LED lighting! Their bulbs fill this gap to see the full range of reds – see the difference below to see what I mean!
[ezcol_1half]
[/ezcol_1half][ezcol_1half_end]
[/ezcol_1half_end]
Soraa Healthy is for rooms where you spend evening hours, and it has no blue light so you can get a good nights sleep. I had no idea that standard LED bulbs contained blue light, but I know it's so important to avoid blue light before bed (the main culprit being my laptop and phone), so I love that this light bulb removes it from the room.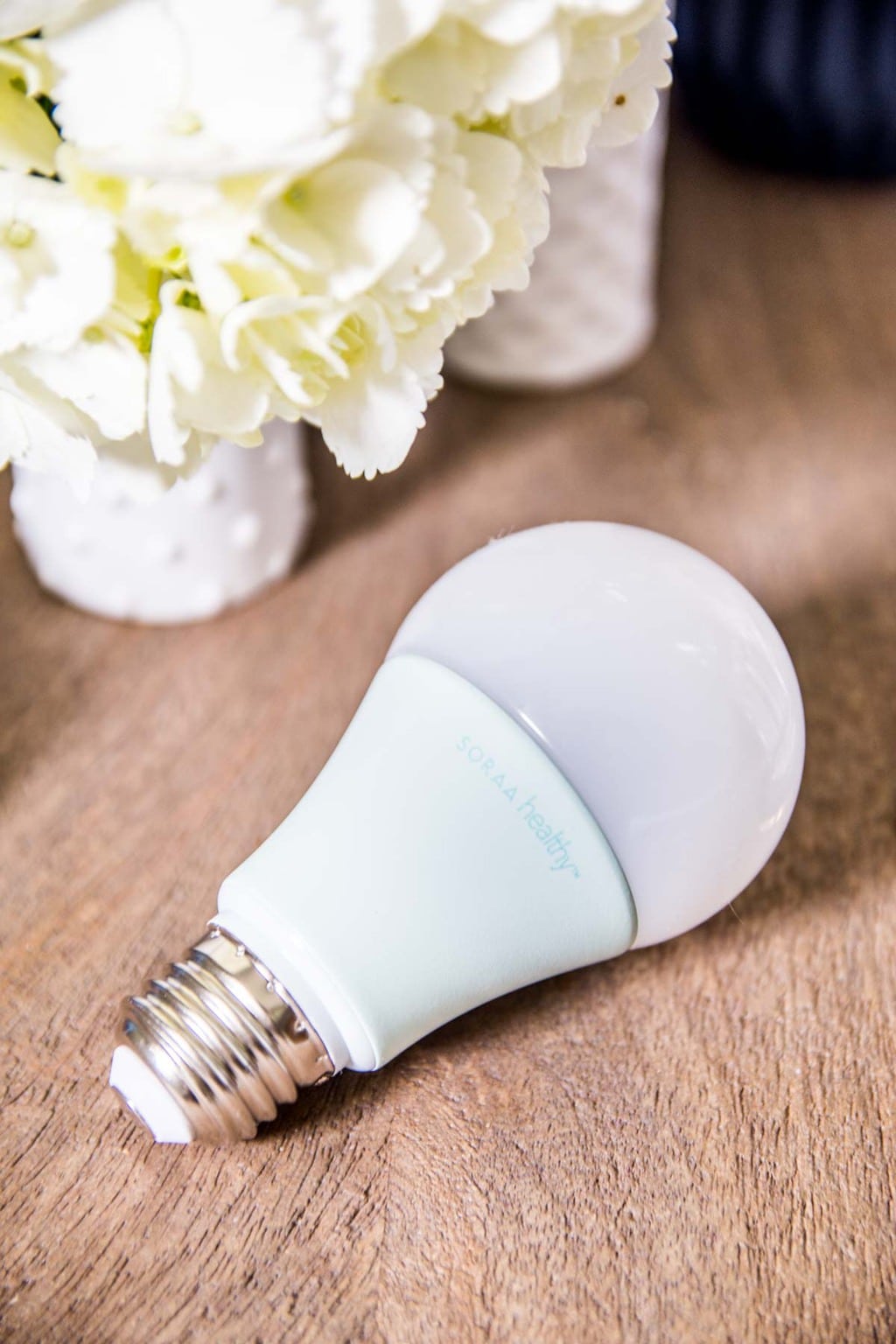 I absolutely love when design can enhance our lives, and Soraa has certainly taken residential lighting towards a healthier life at home. I'm excited to integrate these new bulbs into our light fixtures and enjoy the benefits they bring!