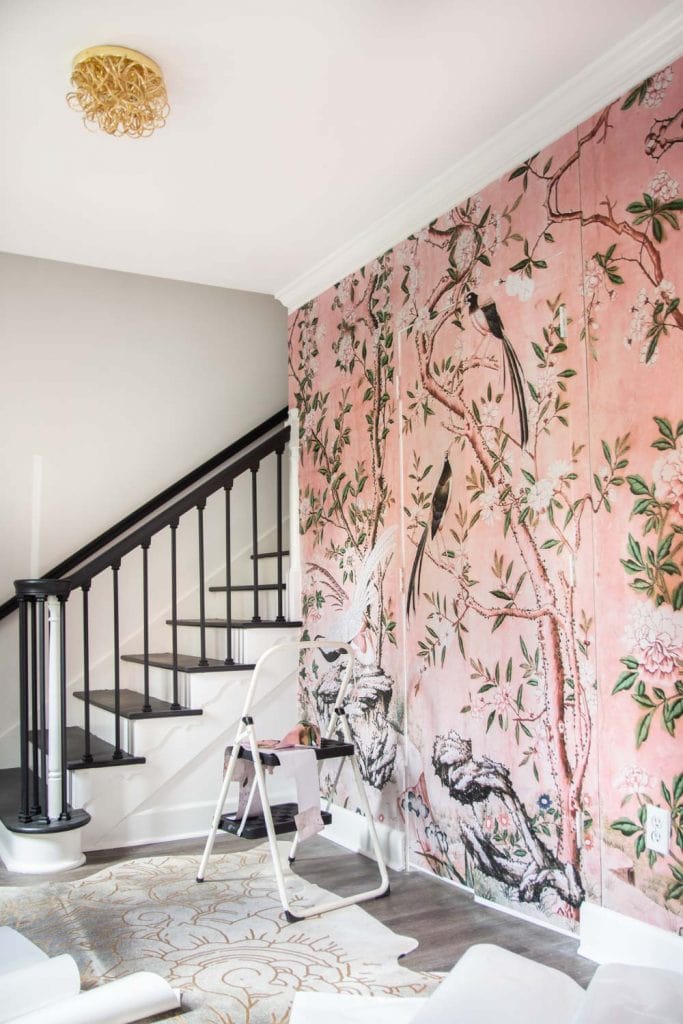 As you might remember from this decor roundup earlier this year, I've had my eye on wall murals for a while, so when I thought about defining the Dove Hill Project entryway, I knew exactly what would make a statement! When we first looked at the house, my mom and I approached the entryway as the guest entrance and the garage entrance as our everyday entry. This meant that the doors leading from the entryway directly down to the kitchen wouldn't be used by guests, so in order to design an entryway that emphasized the path into the living room instead, I had flush-to-wall doors installed that could be completely covered and concealed by a fabulous wallpaper. I turned to my friends at Anewall for a wall mural with an large-scale take on a chinoiserie landscape with a really rich pink background and a name perfect for a house in the South (Magnolia)! See some behind the scenes of the removable wallpaper installation below.

I chose removable wallpaper (versus traditional or pre-pasted) for something we could easily remove for the next owners of the house. The mural came in five panels, and I started from the right side, using the corner to guide the edge of the panel down the wall. I usually pull away about a third of the wallpaper backing to start at the top and then continue pulling it away as I move down the wall. The trickiest part is definitely lining up the next panels as I moved across, keeping the pattern aligned all the way down the wall. I shared a little video clip of the install on Instagram. See it below:
When it came to the edges of the doors and the edge of the stair railing, I used an exacto knife, working carefully to cut around. We cleaned up the inside of the doors with white tape to cover the excess that wrapped around the edges, and plan to clean up the inside of the door opening with pink paint to keep things as seamless as possible.
I think I'll just add a few more details to the entryway, but this new pink mural is definitely the highlight of the space!