(via Architectural Digest, photography by Pieter Estersohn)
When you think of a New Orleans home, you might think of a traditional Southern home with sweeping porches and beautiful antiques sourced from the city's treasure trove of European furniture – something like Sarah Ruffin Costello's gracious home. To my surprise, I found this modernist gem, home to the architect Lee Ledbetter and his partner Douglass Meffer. The landmark mid-century home is not only surprisingly modern, but its architecture is quite striking with an arched motif and tall glass walls. The home gets incredible natural light, and the mix of furniture inside reflects both the home's iconic modernism (classic Eames and Knoll pieces) and the more traditional side of New Orleans style with French-style antiques.
SHOP THE LOOK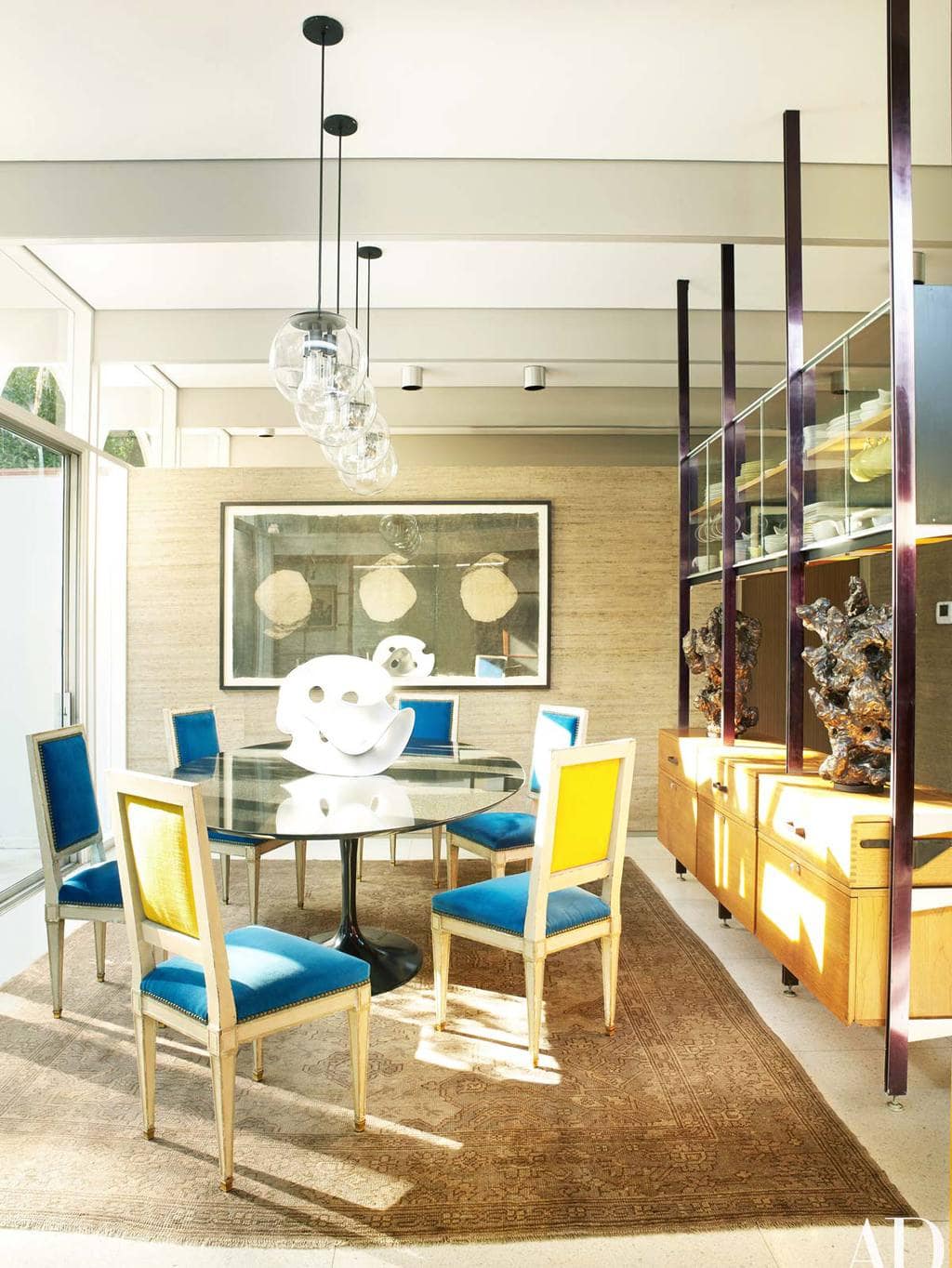 The formal dining area brings in some traditional elements with grasscloth and Louis dining chairs on a faded oriental rug. The black Saarinen table adds weight to the center of the room and draws out the darker tones of the art on the wall. Below, the original terrazzo terrace provides an outdoor entertaining area right off the dining room with Bertoia dining chairs.
In the mustard-toned bedroom above, the top of one of the thin arches on the house can be seen through the floor-to-ceiling window, and a neighbor's home can be seen beyond. Below, I love the warm neutral palette of the bedroom, and the dark grey of the slate floor with the patterned rug.
The patio is a beautiful extension of the house and shows more of the interesting architecture. I love an interior courtyard – it provides such a private outdoor room that feels like part of the home. All of the plants and sleek patio furniture make the scene very inviting. Interestingly enough, the Alaskan totem pole at the back of the shot is original to the house!