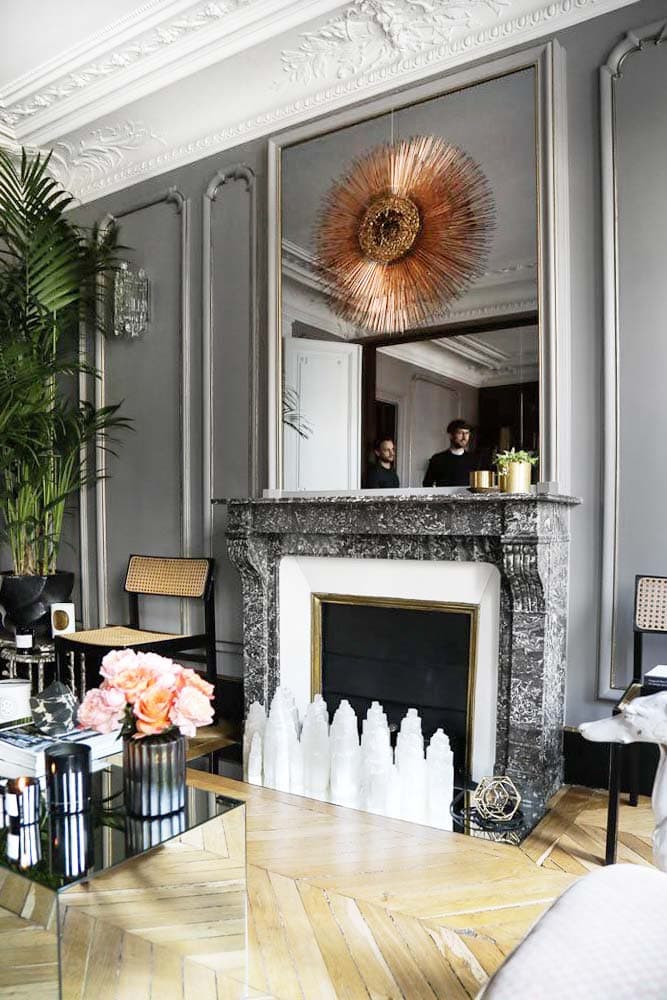 (via The Socialite Family, photography by Constance Gennari)
Home to the design-savvy Parisian couple David Chaplain and Alexandre Roussard, this luxe pied-à-terre takes shades of grey to sophisticated heights, showing off how subtle variations on a shade can produce a varied effect in a small space. While the walls may be monochromatic, the decor and accessories are colorful and eye-catching, producing lively, layered vignettes on every surface. The apartment is a joint project for the couple who are both interior architects – Chaplin works for Chanel and Roussard for Diptyque. With experience in retail, it makes sense that their shelves tell such intriguing visual stories. In the living room, I love how the sunburst mirror was layered and their contemporary furniture is mixed with classics like the Ceusca chairs flanking the stunning marble fireplace. Click through to see the rest of the space!
SHOP THE LOOK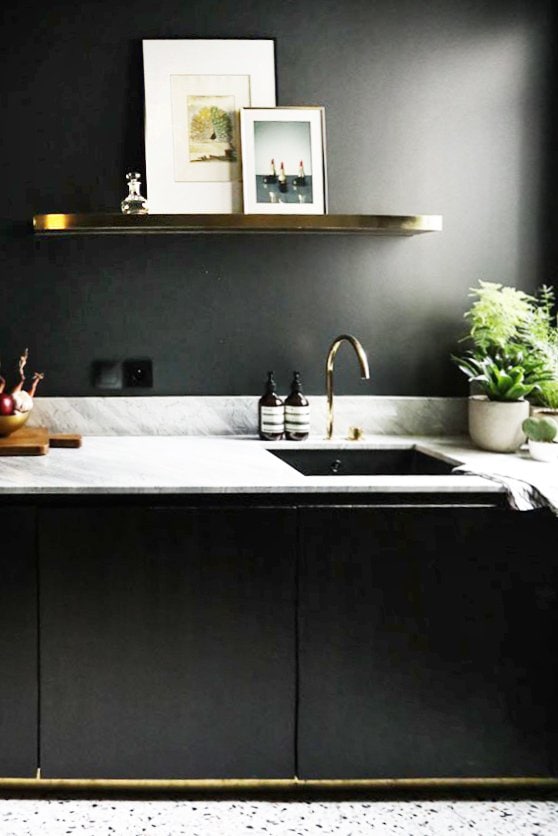 The uber-minimal kitchen provides some rest from the rest of the apartment with very little decor. With the pop of green from the plants, it's starting to look a lot like the palette I was crushing on this fall! I also love the light fixture in this room, a busier brass piece by FLOS to provide some contrast to its simple surroundings.
Dark colors and mirrors create high-drama in the dining area, with open shelving showing off the couple's beautiful collections. One of my favorite details in this area is the brass divider on each shelf, bringing some metallic oomph to the room. I love how they designed the dining table below, with a thick slab of marble and chrome trestles for the table legs.
Things calm down again in the bedroom and bathroom, with a return to the more minimal aesthetic shown in the kitchen. Marble seems to be a common thread throughout each room, from the dining room tabletop to the wallpaper behind the bed. It provides a subtle, organic pattern in the bedroom that doesn't overwhelm the room despite its large scale. I love the floating sink in the bathroom, and the layered mirror look again, this time with a modern round mirror. How do you like the moody grey look of this flat?