Coliving isn't just for college students anymore. Young, single professionals, and digital nomads benefit from community living spaces. While you might envision dirty hostels in sketchy neighborhoods, these up-and-coming spaces are nothing like the coliving lifestyles of years past. Sure, you might still get to experience a bunk bed in a communal room when you're backpacking through Europe.
However, if you want long-term housing stateside, you can easily find luxurious and elegant places to call home. You'll find beautiful apartments all over the country. From San Diego to Philly coliving, shared spaces are popping up all over the place. People choose this lifestyle for the many benefits it offers. Here are some of them.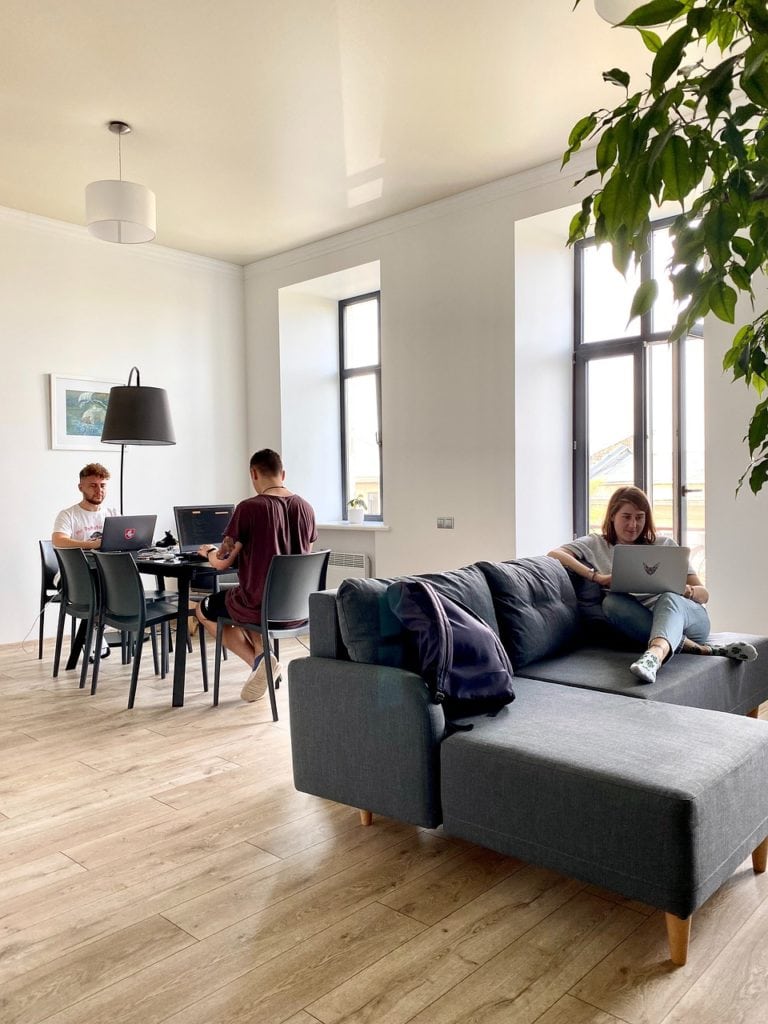 Affordable Housing in Big Cities
Let's get real for a moment. The fact is, living in a big city isn't cheap. While you may benefit from lower costs because you don't drive a car, housing expenses are astronomical in the most desirable neighborhoods. Coliving housing helps people find affordable places in better locations. For the young professional who wants to experience urban life to the digital nomad who spends a few months at a time in one place, these living arrangements provide a great option to live and work in the big city.
Connect With People
Making friends and building healthy relationships is hard as you get older. By living in a home where multiple people live, you can connect more easily with those who have common interests and lifestyles. Coliving creates instant community. When you're moving somewhere new, this community can help you feel more at home in your new city. 
They can also help you learn about the best local spots, where to find the best local Chinese food, and which cafe really does have the best coffee in the neighborhood. You'd be amazed at how coliving helps you make friends and connections more quickly than if you live on your own.
Flexible Rental Terms
If you've ever had roommates, you'll understand the challenges that come with it. In a roommate situation, each person is liable for the entire rent. So, if one person doesn't pay their share, then the other roommates need to pay more, or they'll eventually get kicked out because they breached their lease. Coliving is much more flexible than that. While you may share an apartment with 5 other people, each individual is only responsible for their rent. 
This means that if someone else fails to pay their part, you are not responsible for it, and you get to keep living there. The owner of the coliving place will work to replace the non-paying person. These are also great for month-to-month situations or situations where you can't put down a hefty deposit. Coliving spaces are typically more flexible than traditional rental units.
Fully Furnished
Some coliving apartments come fully furnished. This means you won't need to worry about buying a new bed and all the things that go in an apartment. With a small desk space, a fully furnished living room, and dining tables, you can eat, work, and play all in one location. You can easily transform your simple space into a luxurious abode as well. They also come with things like cable television, streaming services, and even large screen T.V.s. Not only that, but some places offer all these things in each individual room.
Fun Activities
Living in a place with planned events sounds like a dream come true. Whether you're up for a karaoke contest, a wine tasting, or guided foot tours around your city, coliving spaces offer many activities. These coliving companies work hard to offer community activities for their residents. They conduct surveys to ensure that they are creating the kind of environment that the people who live there will enjoy the most.
Luxury Amenities
When you're living and working in a city, luxury amenities can make it feel relaxing and enjoyable when you're home. Anything from heated spa-like pools, to spa services, a gym membership, and even on-site childcare can offer the perks you need to enjoy your coliving. While these amenities might cost you a lot of money on your own, they are often included in your coliving rent.
Is Coliving Right for You?
Coliving is convenient, affordable, and flexible. It offers an instant sense of community with other people who have similar lifestyles and habits. This makes coliving an appealing option for many young professionals who are paying off debt and looking to live affordably in big cities.