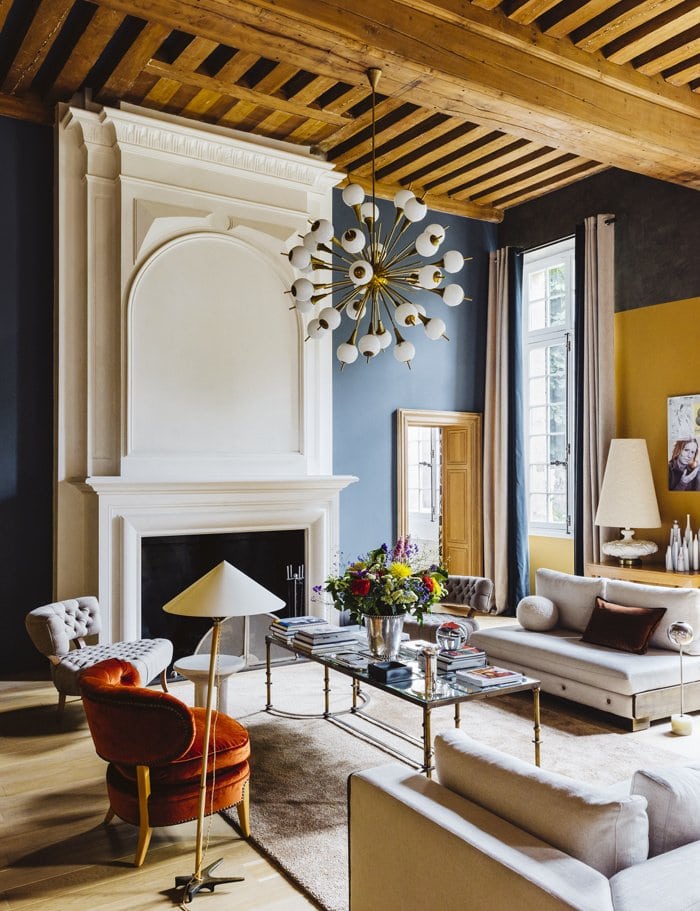 (via AD France, photography by Jérôme Galland)
In a 17th-century mansion on the left bank of Paris, art lovers brought their love of collecting to the task of decorating the home with interior designer Pierre Yovanovitch. They expanded their collecting from fine art to vintage furniture, antiques, and one-of-a-kind decor. The well-trained eyes of the occupants and decorator created a beautiful mix of periods, styles, and finishes resulting in a comfortable home full of interesting contrasts. The home's style leans towards mid-century but mixes Italian, Danish, and American pieces for a sophisticated mélange. In the living room above, the entire fireplace was designed by Yovanovitch himself, and a contemporary Stilnovo chandelier pops below the ceiling's wide wooden beams. Continue reading to tour the rest of this elegant home.
SHOP THE LOOK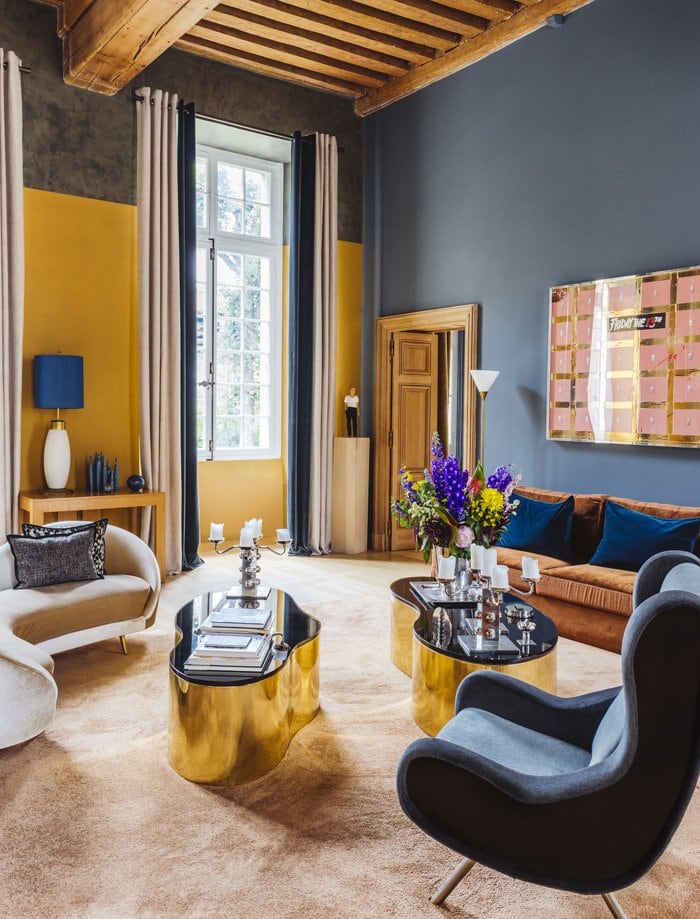 Original, iconic mid-century furniture can be spotted in many of the rooms, like the Karl Springer coffee tables above and the Arne Jacobsen chairs in the dining room below.
I love how the wicker stools offer easy seating and a modern accent for the home office above. The wall color choices are interesting in this home, especially in the living and dining rooms where the walls got a two-tone treatment. My favorite hue may be the dusty blue below, which balances the wood doorframes and ceilings in the home so well, and looks beautiful with the deep emerald green curtains framing the French doors. They must lead to the beautiful courtyard…
I just love a walled courtyard – and this one looks like it has an especially tall wall. It gives a very private feeling to the garden, adding to the paradisaic quality of the urban escape. The simple butterfly chairs and blooming hydrangeas give a wild, easy-going atmosphere, while the neon artwork adds a playful sense of mystery. I'm not a huge fan of the neon art trend, but I think the aged wall of a private French garden may be just the place for such a piece to live.
What do you think about the modern renovation of this ancient home?