(via Elle Decor, photography by Björn Wallander)
This week's home tour picks things up a notch with traditional motifs, bespoke details, and an eclectic touch from designer Christopher Noto. He brought back the life and period embellishments to the neglected interiors of this flat in the 7th arrondissement, a home he stumbled upon after living in a Haussman-era apartment near the Palais-Royal. The apartment included some original architecture, such as the parquet flooring in the living room, but Noto added the stone floors in the entry and much of the molding and trim in the living spaces. From the red lantern above to the gilded doorway in the entryway below, there are some truly glamorous pieces in this pied-a-terre that reveal Noto's eye for the extraordinary, even in the most stylish of settings.
SHOP THE LOOK

With the bedroom is just the room beyond, this desk seems like the most dreamy home office set-up. The lavender curtains frame a stunning view I'm sure, and an antique fauteuil would certainly make a comfortable desk chair… Probably too comfortable!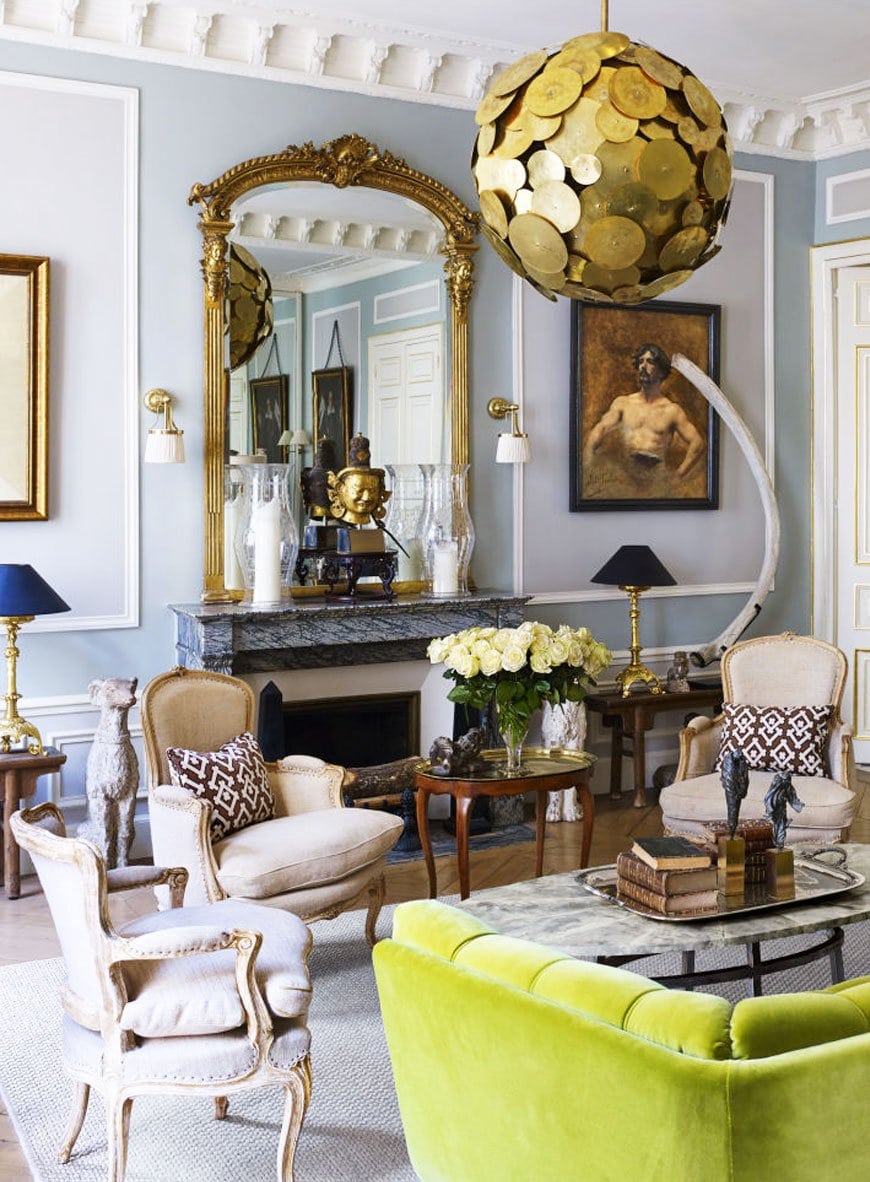 This sculptural brass pendant is also featured in Noto's dining room, a space I shared several months ago for a Swell Shopping post. It almost looks like the model of a planet in its design and definitely creates a focal point to the room. It also is beautiful set against the pale blue on the walls. The pop of citron on the sofa is unexpected, but brings a lot of energy to the palette and the feel of the room, don't you think?
The bathroom is simple but stunning with a subtle warm grey that blends right into the background of the marble that extends from the sink to the backsplash. Again, brass fixtures pop in this room and shine – especially with the contemporary finish on the mirror – in the traditional setting. There's a fine line to walk between eclectic and sophisticated, but when an interior can have a foot in both worlds I think it's truly extraordinary!