One of the most exciting parts (to me) about Steve McKenzie's and the McKenzie's design business is the original fabric line that Steve created from his own paintings. Taking his expressive brushstrokes and soft, watercolor paintings to fabrics and upholstery projects is such a fun way to bring an artist's touch to interiors. When I saw Steve's line with a soft, watercolor palette, I knew they would make great tablecloths as well. Inspired by the warm, faded palette, I designed a table setting using the McKenzie's store as my prop closet. With a large, low-lying arrangement, acrylic goblets, mixed plates and hotel silver, the table took on an electic look that really speaks to the unique mix at the McKenzie's shop. I set up the table at my neighbor's house for a fresh setting, and lit the votive candles as the daylight faded, casting a glow on the rosy stripes running across the table. Get all the details of this tablescape after the jump!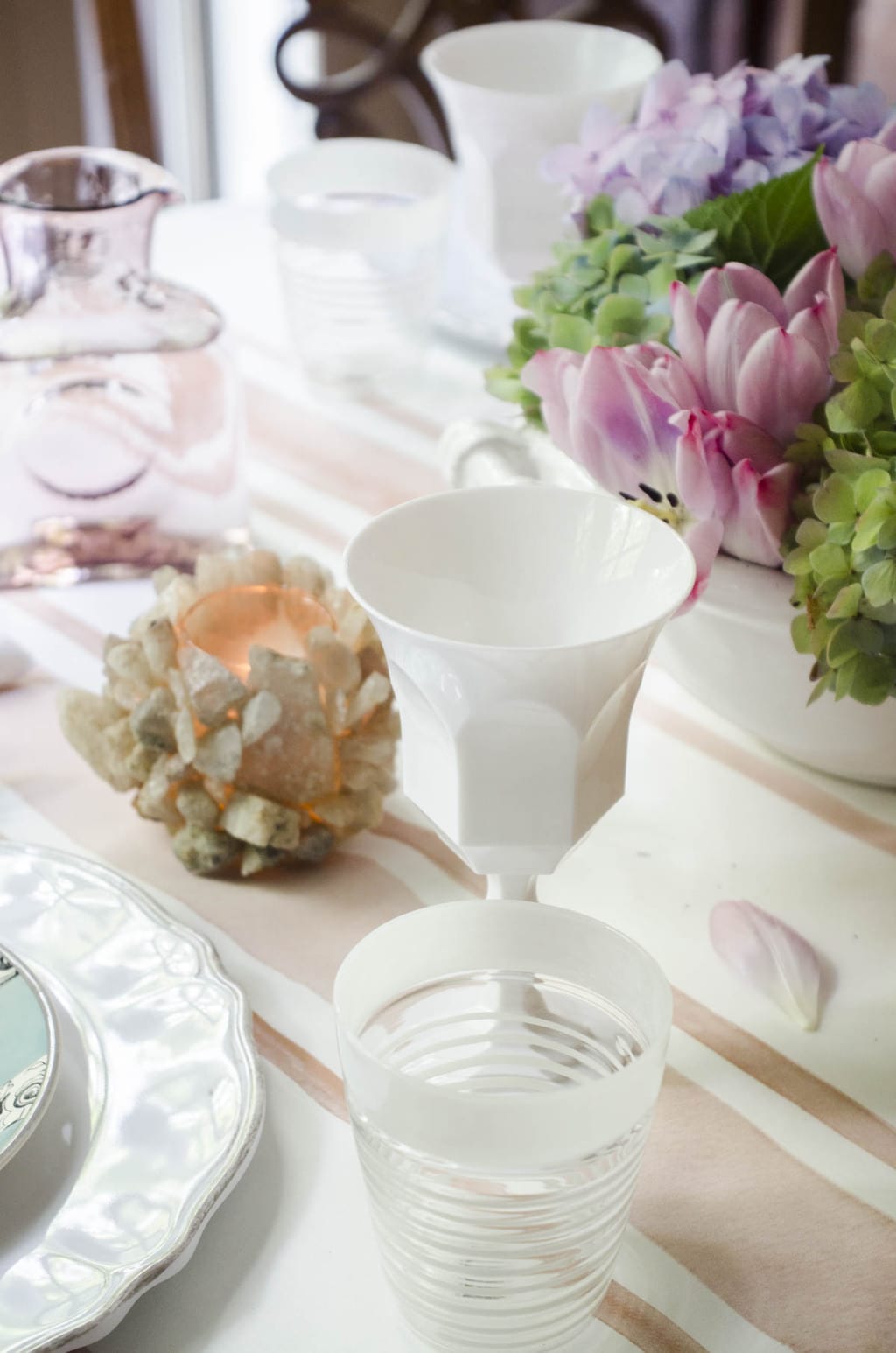 The dinner plates and white goblets are actually both plastic! The plates have a great rustic finish that is hard to believe is durable melamine, and the goblets were one of my favorite pieces to the table. They have such a fun shape and their opaque material plays well with the opaque stripes on the water glasses.
I spotted these salad plates the first time I visited the store and knew I had to use them in a project. They have traditional motifs overlaid with a modern, geometric pattern that make them a statement piece on the table. They come in many different colors, but the pale grey and blue also worked well with the table's color palette!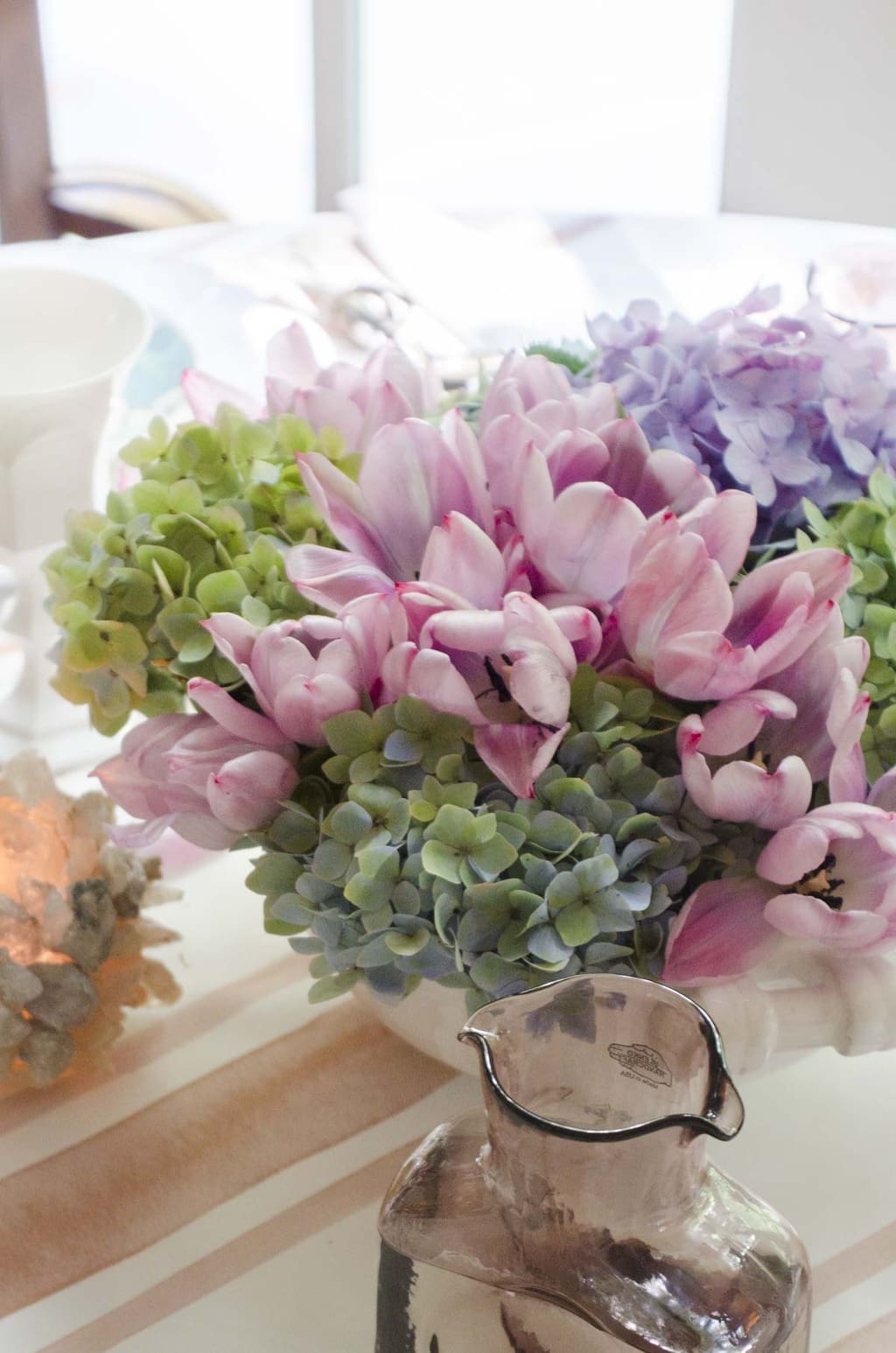 I knew a low arrangement would work best on this table because it was just a setting for four, and I didn't want to block the view across the table. I skipped Oasis and just used large hydrangeas to make the arrangement full enough to be secure. My neighbor's backyard has a row of hydrangea with gorgeous colors – in-between blue and green with a little purple at the edges. They looked stunning with one purple hydrangea in the center and pink tulips spread throughout.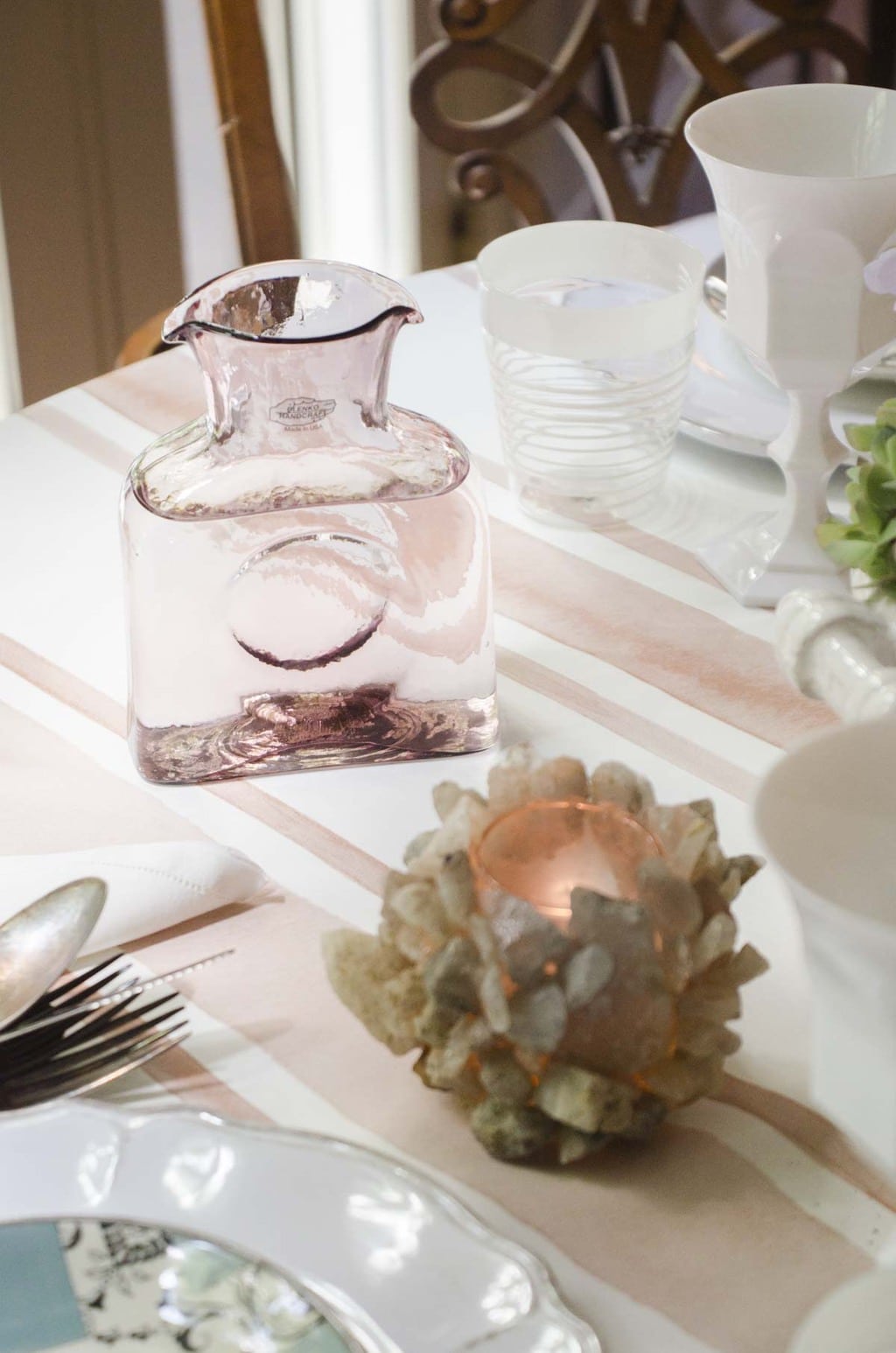 I originally planned on using the handmade Blenko bottles as vases, but ended up keeping them as water pitchers, which brought another soft pink accent to the table and contrasted the solid shapes of the glasses perfectly.
Casual hotel silver settings finished off the settings. I loved the fun mix of shapes on the utensils and the vintage vibe they brought to the table. It was so much fun setting this table… If you could have one piece from the table what would it be?

This post is sponsored by Steve McKenzie's, but all text, images, and opinons are all my own. Thank you for supporting the brands that keep Thou Swell running!