I am excited to bring you another Queer-Eye-inspired room makeover with the brand's modern furniture collection available at Walmart. Earlier this year I transformed a sunroom for my best friend and her father, and this time I'm tackling a home office that's been in heavy use over the past few months. It's been the command central for my dad's girlfriend Janet, who is an art history professor. With all of her classes moved to a virtual format, she had to quickly adapt to online teaching and the office now serves as both her room for teaching and also continues to be a hub for the research she does on indigenous South American art. I redesigned the space with these needs in mind using sleek new additions from the Queer Eye furniture line that add style and functionality to the room. See how the space transformed below!


shop the look

BEFORE
[ezcol_1half]
[/ezcol_1half] [ezcol_1half_end]
[/ezcol_1half_end]AFTER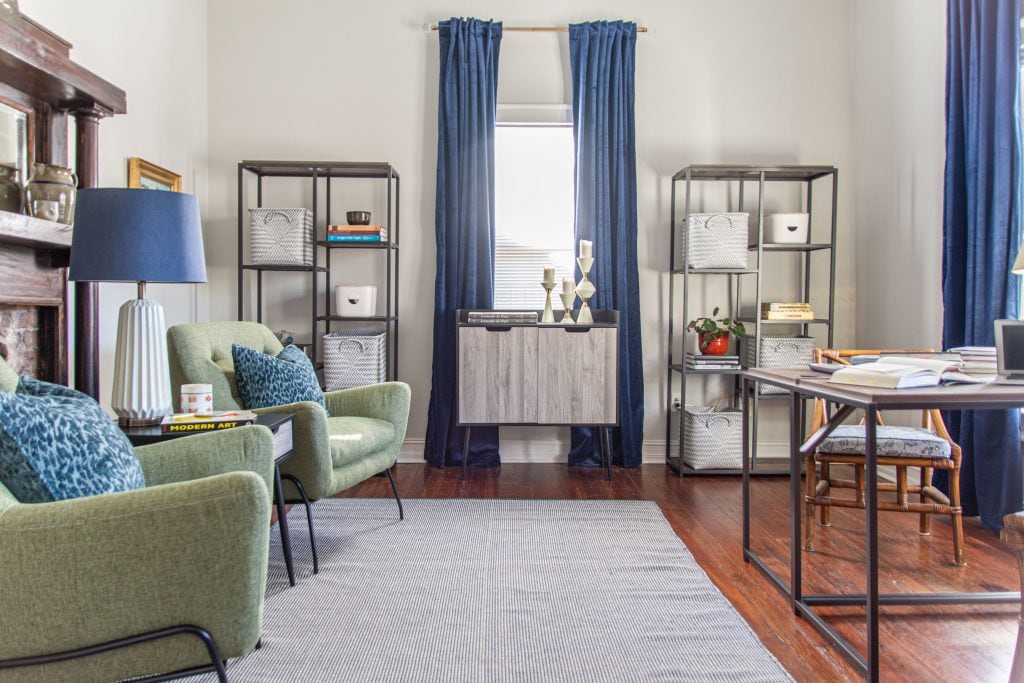 One of the most important features of the space is storage, so the Quincy bookcases and Copley storage cabinet were key to anchoring the back wall with a place to stash books, papers, and tools. I styled the shelves with a mix of bins for hidden storage, frequently-referenced coffee table books, and pottery Janet made for pops of color. The storage cabinet adds a super practical console below the window and is great for keeping clutter out of sight. I also added dark blue curtains to establish a cool and calming color palette in the space.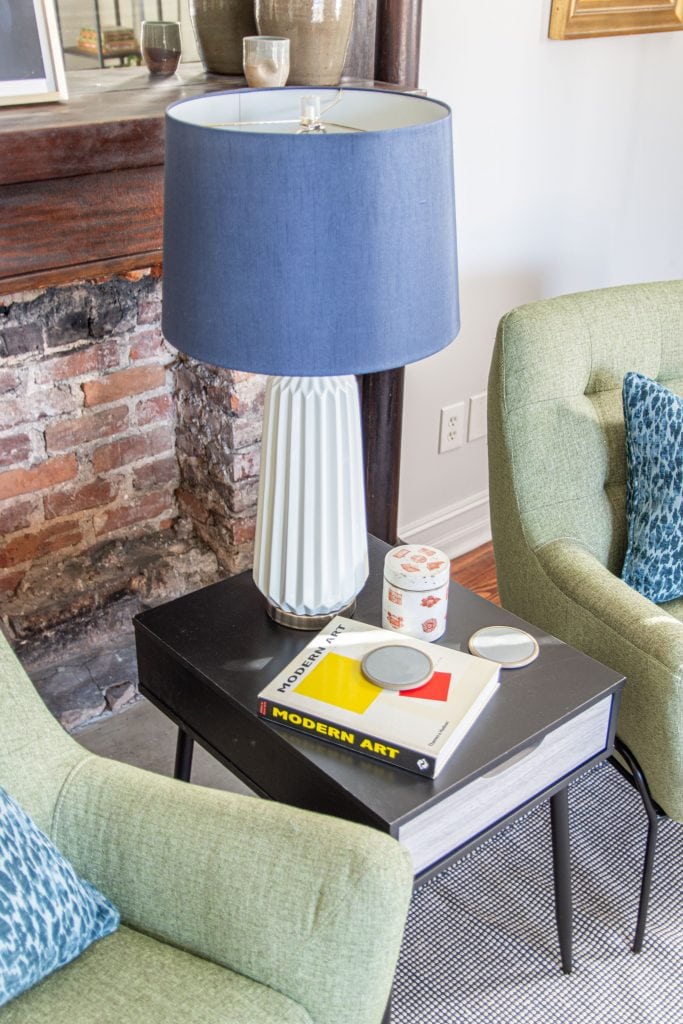 By the fireplace, I added a best-seller from the Queer Eye collection, the Brayden chair. This comfortable reading chair comes in a variety of colors, but I love the pop of green in here! They are great for Janet to sit and read by the historic fireplace mantle. Between the chairs I used the mid-century style Copley side table that matches the cabinet that's adjacent. I also added blue throw pillows and a coordinating lamp shade to tie the color scheme together.
I used two desks in this room instead of one to really take advantage of the room. This allows for a dual-workstation and avoids the backlighting from using a computer right in front of the window. These Quincy desks coordinate with the bookshelves and have a very cool feature built in – a charging pad on the desk surface! I love being able to simply place my phone down on the table for easy charging.
With a simple blue rug and accent lighting around the room, the space came together to create a much more supportive work environment for Janet! I loved pulling these stylish pieces from the Queer Eye collection to transform the room. Shop the entire line by DHP Furniture exclusively on the Walmart website!