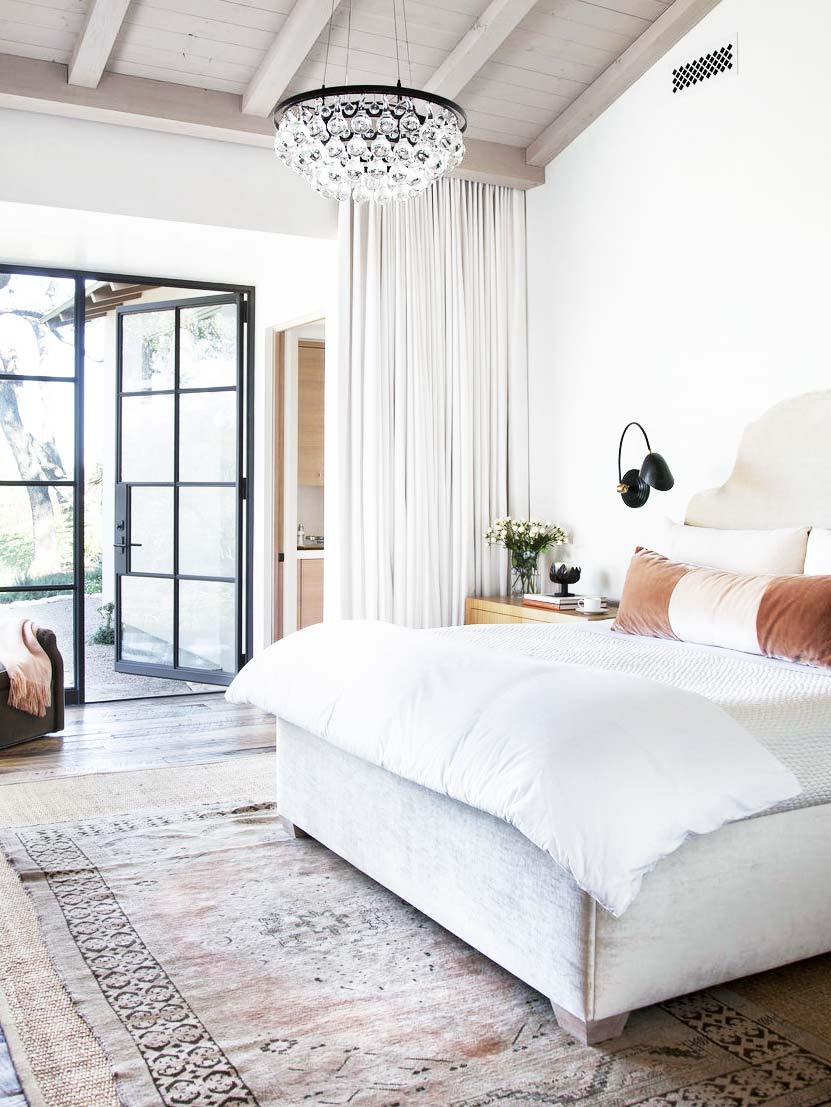 (via Ryan Street & Associates)
We spend more time in our bedrooms than any other room in our homes… Well, most of that time is spent sleeping of course, but regardless, the boudoir is one of the most personal spaces in the home. Investing in this room creates such joy, because the more personalized it becomes, the more at ease you'll feel in your bedroom. Making sure it's well lit is one of the top priorities, as these key light fixtures on the ceiling, by the bed, and on the dresser, instantly upgrade your room into a personalized, relaxing environment, giving you greater control over the ambiance and mood in the room. Plus, there's the very practical side of good lighting that ensures safety, comfort, and customization. Whether you're ready to replace that dim flush mount with a chandelier or jazz up your nightstands with some sleek new table lamps, check out my guide for picking the right pieces from west elm's stunning lighting collection for each area in your room below.
SHOP THE LOOK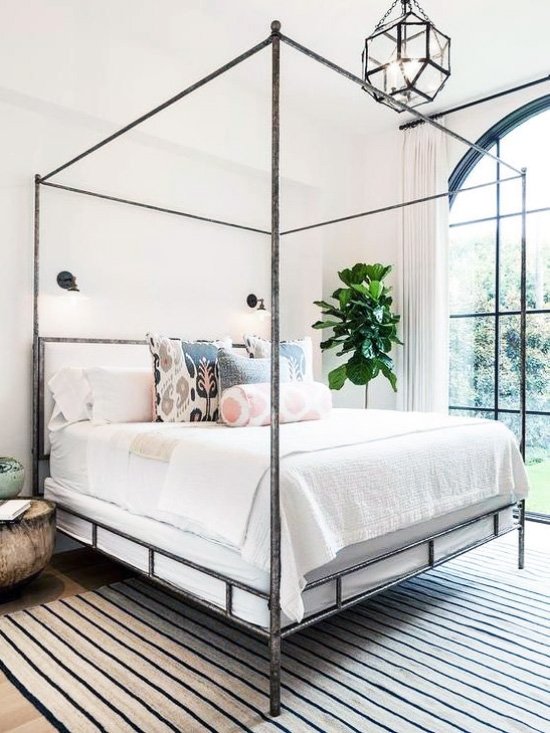 (via
Studio McGee
)
(via
Lonny
, design by Jean Louis Deniot)
ON THE CEILING

Choosing the right chandelier, flush mount, or pendant for your bedroom is important since it's the primary light source and focal point for the room. First, you'll want to keep in mind that this fixture needs to add a bright, all-encompassing glow to your room. Depending on the size of your room and the wattage of the light bulbs you use, you'll probably want a fixture with more than four bulbs, and one that spreads the light evenly around the room, allowing it to bounce off of the ceiling and walls to avoid harsh, unbecoming shadows. Second, you'll want to consider the dimensions of your room – is the ceiling high? Is it a small space or pretty spacious? These factors will determine the scale of the fixture you choose. For my older sister's
bedroom makeover
, I chose the Mobile
chandelier
that wouldn't hang too low in the room and would be large enough to feel balanced hanging at the center of the space. If the ceilings are closer to 8-9 feet, consider a
flush mount
or more horizontally-oriented chandelier. For taller ceilings, you might consider a longer chandelier or large pendant, like in the first image above.
(via Domino, design by Julia Leach)

(via Hoo Residence)
BY THE BED

Bedroom lighting gets much more moody and personal by the bed – you'll want an easy-to-access light that you can switch on and off from bed, and if you're considering the needs of a partner, one that sheds more direct light to prevent too much light spreading into the room. A
task lamp
is the perfect piece for this job, since it will keep the light contained to your side of the bed. Spacial concerns can make a difference here too, as beds in alcoves or smaller rooms without large bedside tables make the perfect case for a sleek
sconce
or a simple
pendant
to be used. For a more traditional look, set a pair of table lamps on either side of the bed, with heights no taller than the top of the headboard as a general rule of thumb. A bedside lamp is also the perfect time to bring in a pop of unexpected color (they say every room needs a hint of
red
), or make a statement with a sculptural base, like this
cubist lamp
.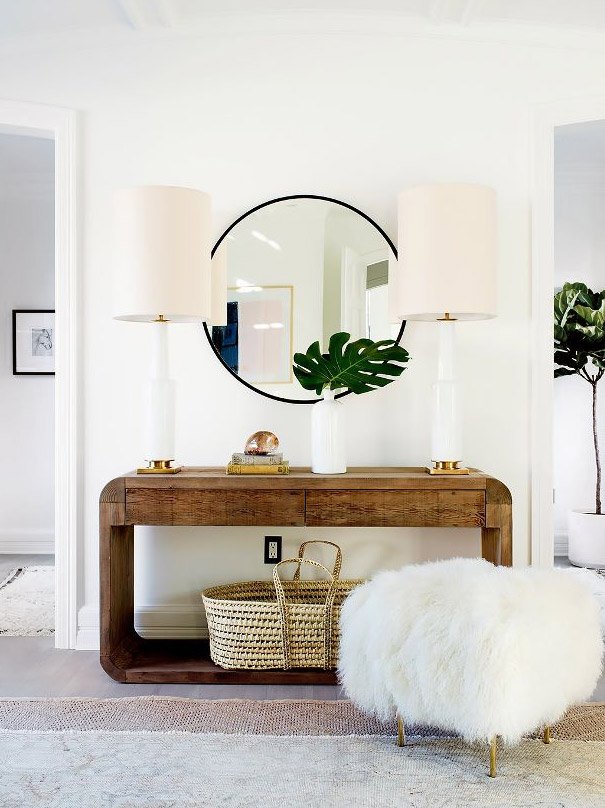 (via One Kings Lane)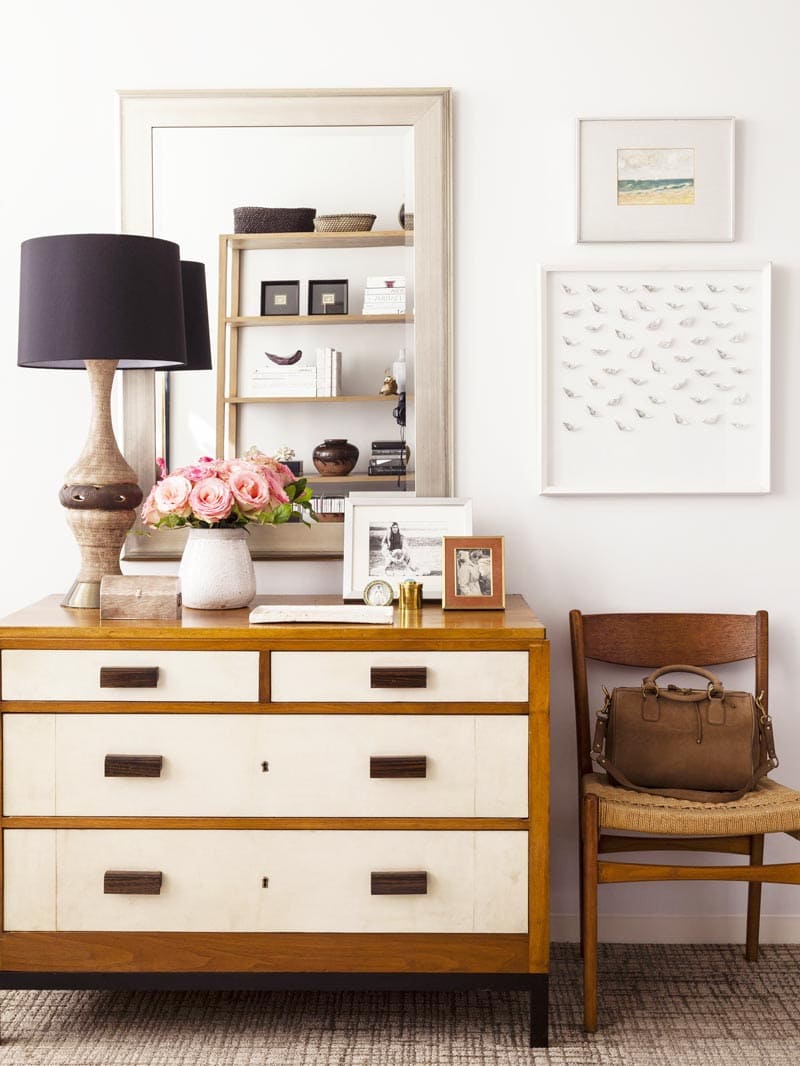 (via Glamour)
ON THE DRESSER

The dresser is one place for lighting that is easily overlooked. Placing a light source near your clothes and a mirror is especially helpful while getting ready in the morning, and helps to balance the weight of a large dresser. If your dresser is longer, consider pairing two
table lamps
on either end of the piece – otherwise one will suffice with some chic accessories to style the other end, like on the fabulous French dresser above. I also love how a
marble lamp
can strike a contrast against a wooden dresser, or a
brass
piece can feel like a piece of jewelry in your room.
Hope this helps you identify those areas of much-needed light in the bedroom (and hopefully set some guidelines for practical and stylish picks for each area)! Do you have a favorite piece of lighting in your bedroom?

This post is sponsored by west elm, but all text, images, and opinions are all my own. Thank you for supporting the brands that keep Thou Swell running!