I can't believe we're only two weeks away from the spring reveal. I'm in my last few weeks of high school so time has really sped up, but the One Room Challenge never fails to surprise me with how quickly the weeks slip by. Make sure to catch up on my Design Plans and Blue Ceiling posts if you haven't already. I'm very happy to say that I've finished placing orders and I'm just waiting on one or two last things to arrive, so I feel well organized to finish off the challenge with everything in place (hope I'm not jinxing myself here). This week I've got some great sneak peeks of some of the latest details that have made their way into the room, including the gallery wall, new chair, floor mirror, and curtains. The room is starting to fill in with a lot of the pieces that are adding weight and color to the space, but next week will be all the finishing touches that to really polish it off for the photo shoot. Get a look at the room's details and catch up with all of the featured designer's posts this week below.
Claire Brody | The Curated House | Design Manifest | Driven by Decor | Honey We're Home | Hunted Interior | The Makerista | Making it Lovely | My Sweet Savannah | Pencil and Paper Co. | The Pink Clutch | Savvy Home | Simplified Bee | Sketch 42 | Jill Sorensen | Orlando Soria | Thou Swell | The Vault Files | Waiting on Martha | The Zhush
Media Partner House Beautiful | TM by CIH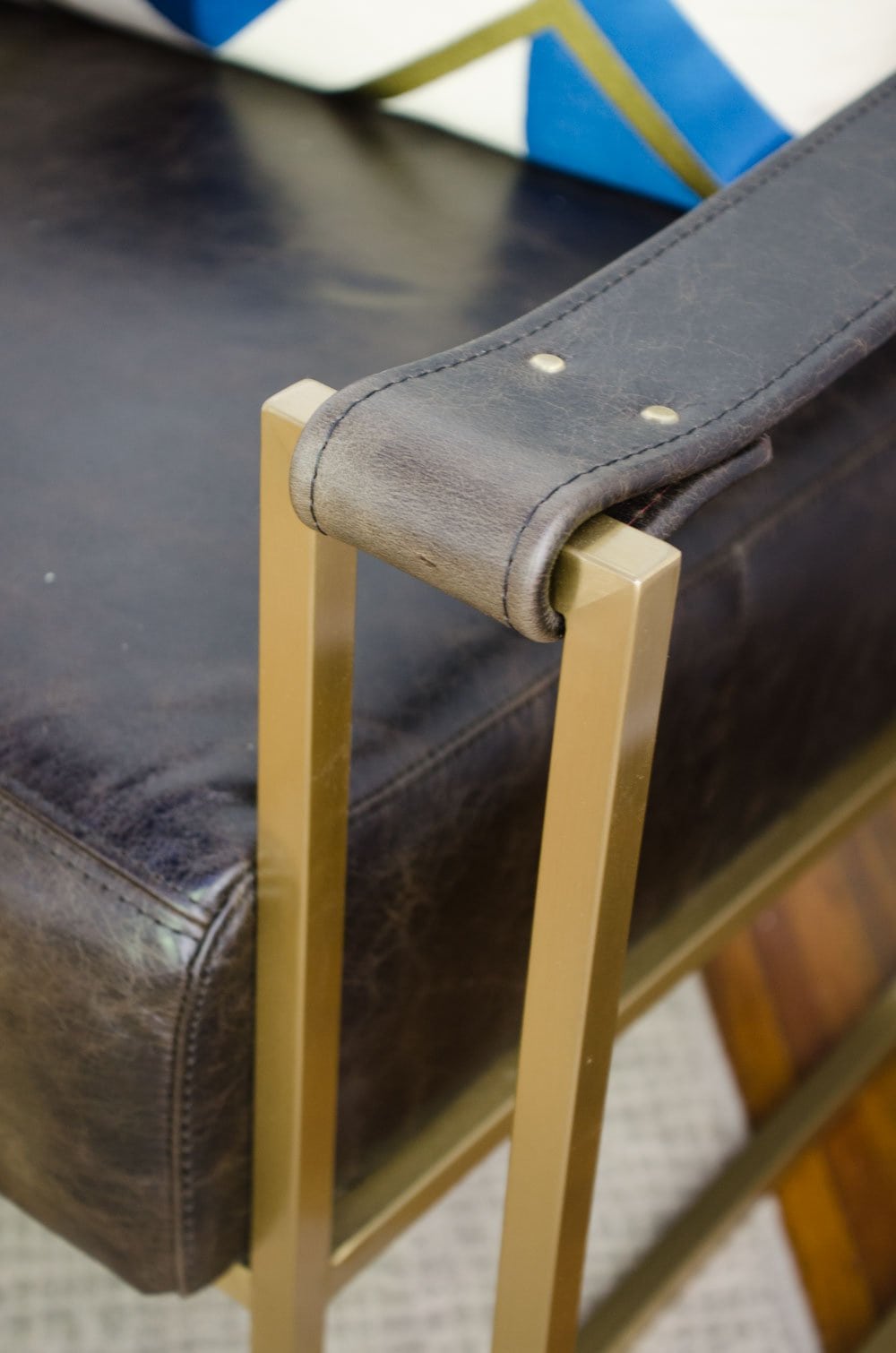 I'm absolutely in love with the new leather sling chair from Lazzaro Leather. It's comfortable, sleek, and has a great modern sentimentality that makes a great statement in the corner. As you can see in this photo, the leather is absolutely beautiful!
The gallery wall is now installed, and I love how the mix of muted colors and frame styles suit this corner. Minted's new brass frames are a wonderful addition to their selection, and bring a nice shine to this wall! You can also get a glimpse of the elegant brass task lamp next to the chair, which has a beautiful marble base.
In the gallery wall: leaves, street grates, umbrellas, pale abstract, water lilies, cattle, sphinx, feathers, and blue abstract.
As you can see, the Lakeview Windows watercolor print from ArtStar that hasn't quite made it into a frame yet. I love the bolder colors in this piece, and it will have its own space over on a wall closer to the bed. It's simple but recalls the effect of skyscraper windows beautifully.
I'm also excited to use Framebridge again to have some more personal pieces of my own photography framed for the room. I printed the photograph above in their largest size in the Brentwood frame which is mirrored. I think will look fabulous in the corner. The photograph also mixes well with the natural, black-and-white photos in the gallery wall.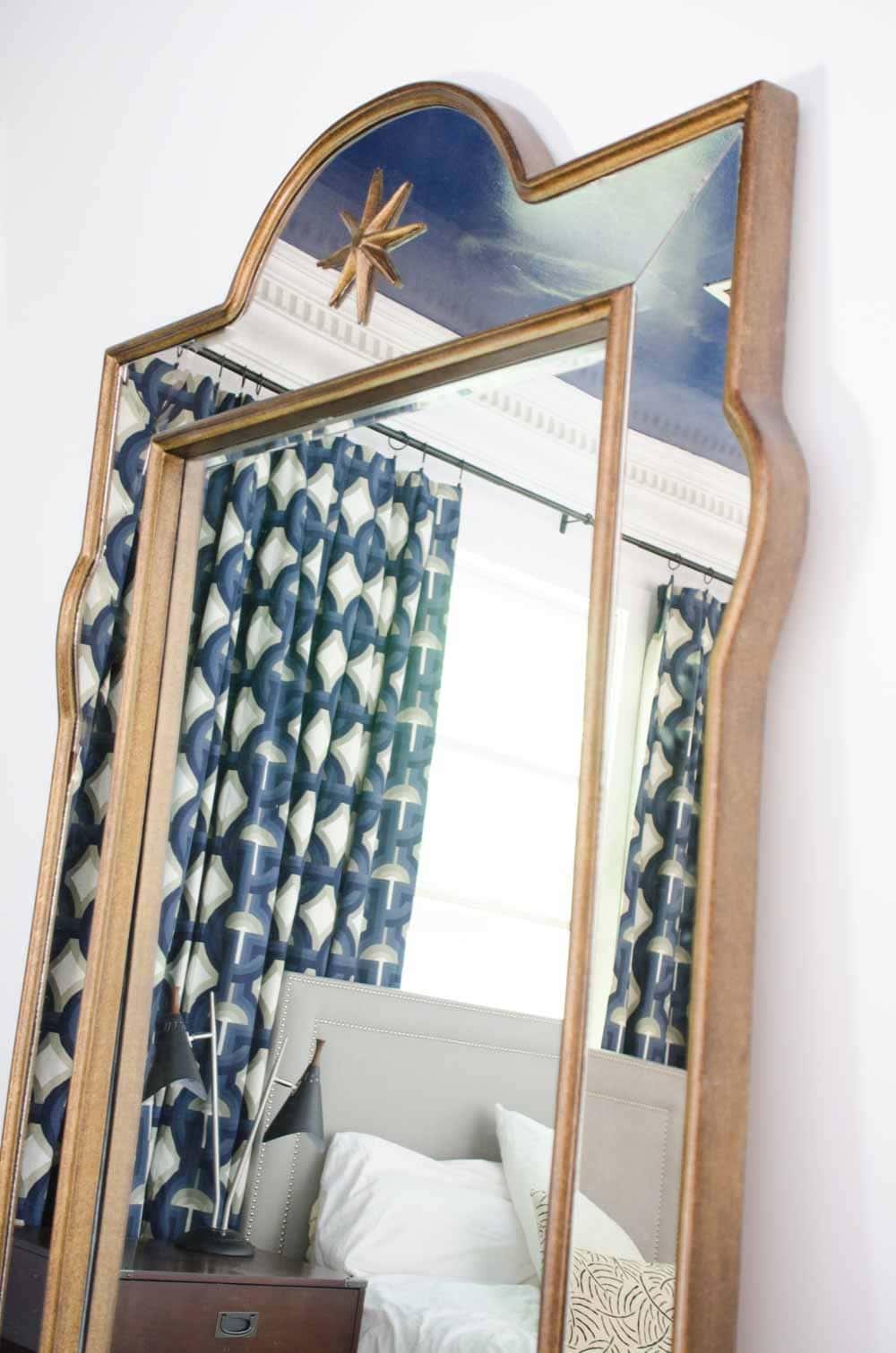 The Juliet floor mirror just arrived from Bassett Mirror Company, and it really makes a huge impact in the room. It's a full-on 7-feet tall and almost 4-feet wide, making it feel like a doorway in-between the openings to the closet. It also reflects lots of light around the room, which is very helpful given that there is only one window.
And finally – a little peek of these incredible curtains, made from Robert Allen's Futura fabric. I had them made at Fast & Great Upholstery, which is my go-to place for super reasonable pricing and great quality work in Atlanta. These curtains brought so much energy to the room as soon as I hung them, so I'm excited to give a wider view of them with the whole room reveal in two weeks!

Product for my One Room Challenge was sponsored by the following brands: AllModern, ArtStar, Bassett Mirror Company, Bellacor, Crystorama, DecoratorsBest, Farrow & Ball, Framebridge, Joss & Main, Karastan Rugs, Lamps Plus, Lazzarro Leather, Minted, and Purdy. Thank you for supporting the brands that keep Thou Swell running!