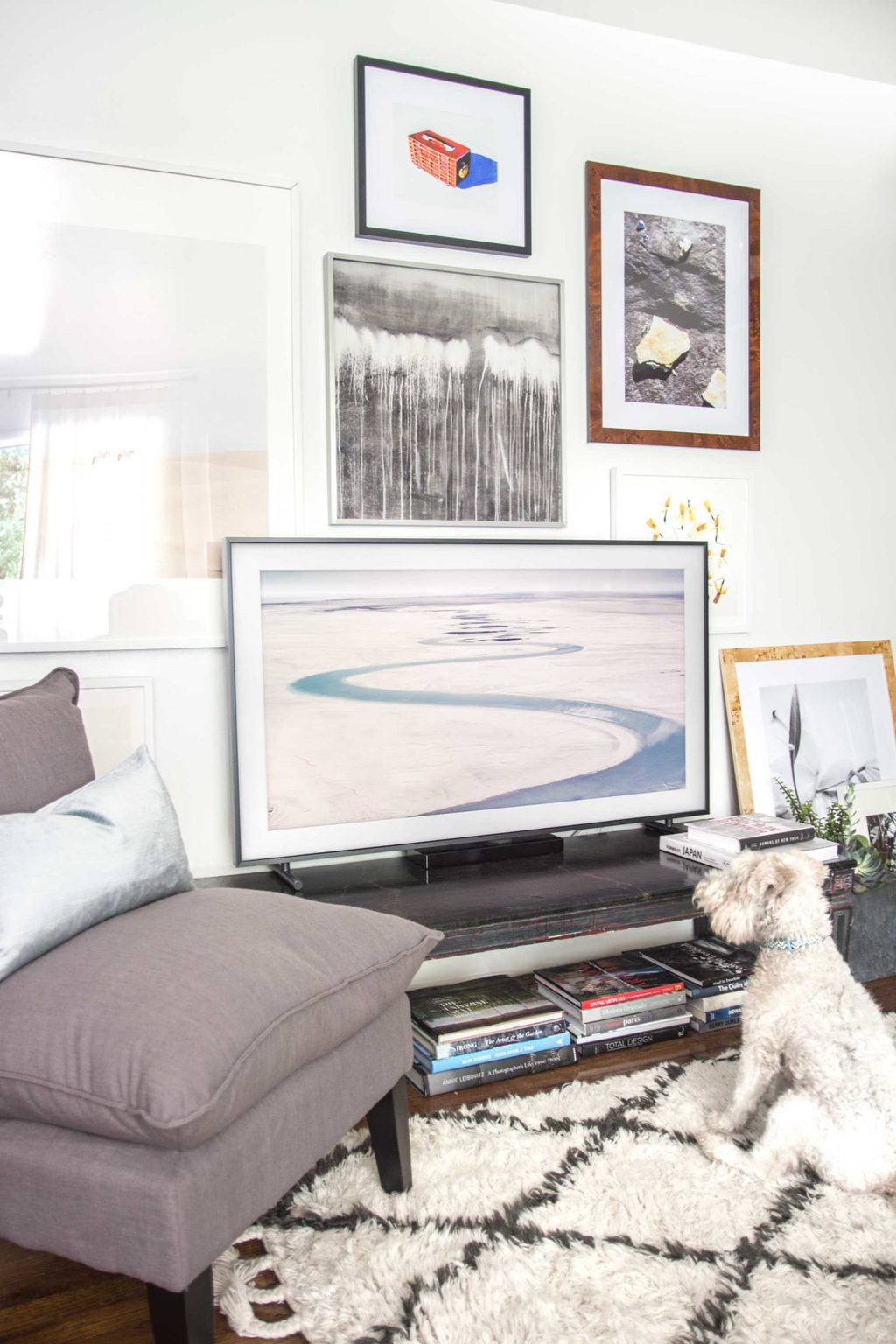 My family has had a strained relationship with the few TV's we've owned. We're firmly in the no-TV-in-the-living-room camp – especially when it serves as the focal point in the room (mounted above the fireplace for instance). We've always filled our living spaces with art first and the fact of the matter is that we don't watch a lot of TV, although this has changed over the past couple of years as we've started watching series on Netflix and Amazon together on weekend nights. We've used pull-down screens and a projector for years to watch TV and movies, and earlier this year we tried the solution of having a TV on a little bar cart that we hide behind the curtains separating the dining room and kitchen, to be pulled out when we want to watch something. Now there's a solution that satisfies our need for both beauty and function. I'm excited to share a beautiful piece of technology with you that is not only a TV but a piece of art for your living room – living seamlessly within your decor. Let me introduce you to The Frame by Samsung!

[ezcol_1half]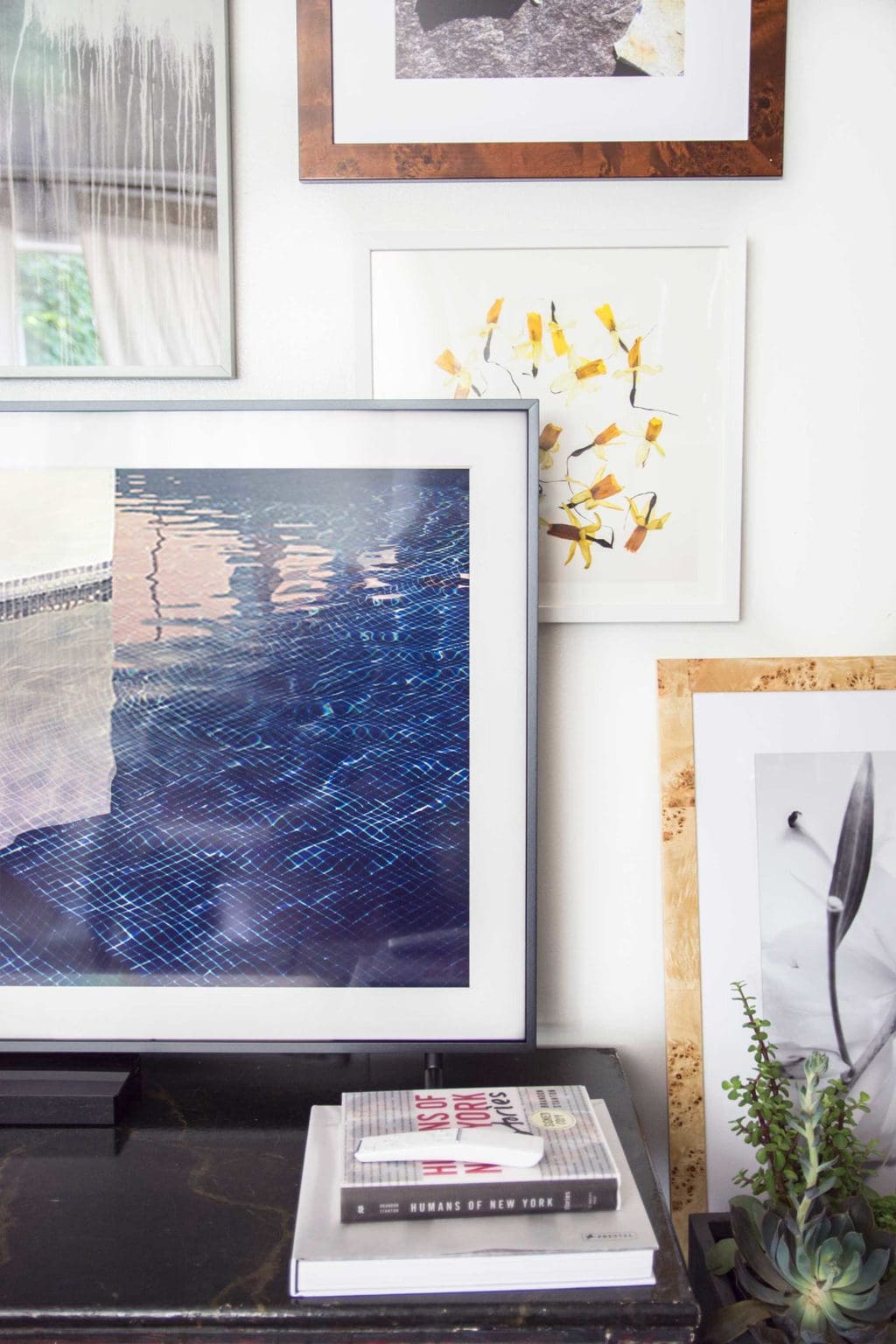 [/ezcol_1half] [ezcol_1half_end]
[/ezcol_1half_end]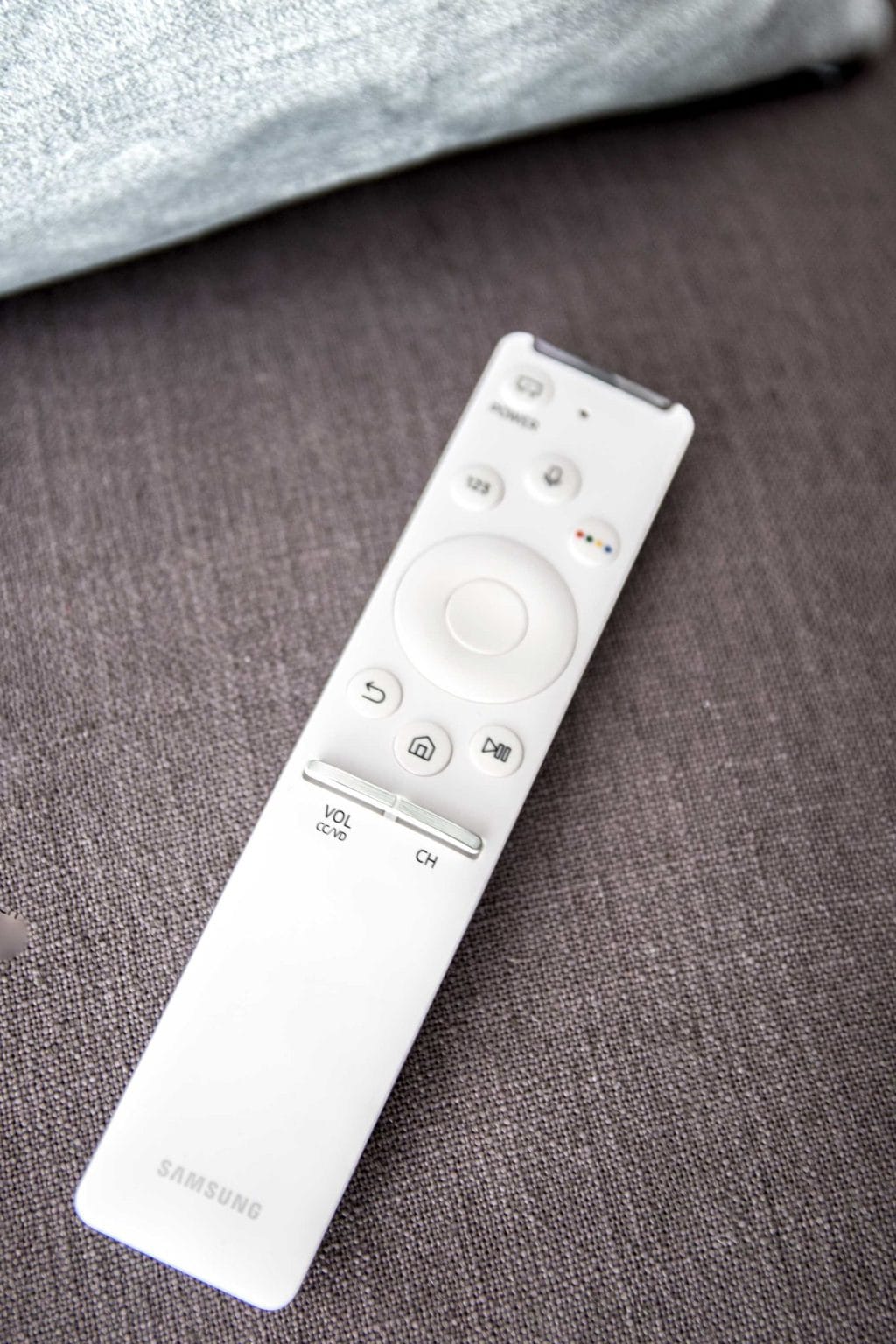 Samsung's new TV features a slim, boxed grey metal frame that looks like a picture frame. You can buy customized frames that clip-on magnetically in walnut, oak, and white to fit right into whatever framing you use on the other art in your home. The Frame's incredibly crisp 4K screen is built for viewing TV and movies in super high-resolution and for becoming a beautiful piece of art when the TV is not in use. It also saves power by displaying this 'Art Mode' whenever people are in the room and has a sensor to automatically adjust to the light in the room. It also comes with its No-Gap Wall mount, so it can be mounted completely flush to the wall just like a framed picture, to blend right into your home's decor – whether it's in the middle of a gallery wall or on its own. I placed The Frame on an old coffee table my grandfather made, and surrounded the piece with art that you may recognize from many of my decorating projects I've shared here. From my own artwork to others, the gallery wall reflects the TV's own capabilities. Not only can you choose from a wide variety of contemporary artists in many mediums or your own photographs and artwork, you can choose different styles and colors for the mat (or choose to leave the piece without one). See my favorite art from Samsung's curated collection below.
I love how each different piece has different colors, textures, and style but fits beautifully with the surrounding artwork in different ways. They each give the room a different feeling as well! It's amazing to be able to so easily add a piece of statement artwork to the wall and to change it on demand for a different ambiance or event. I could've easily added many more examples of the artwork – they really created a beautiful gallery of artwork to choose from.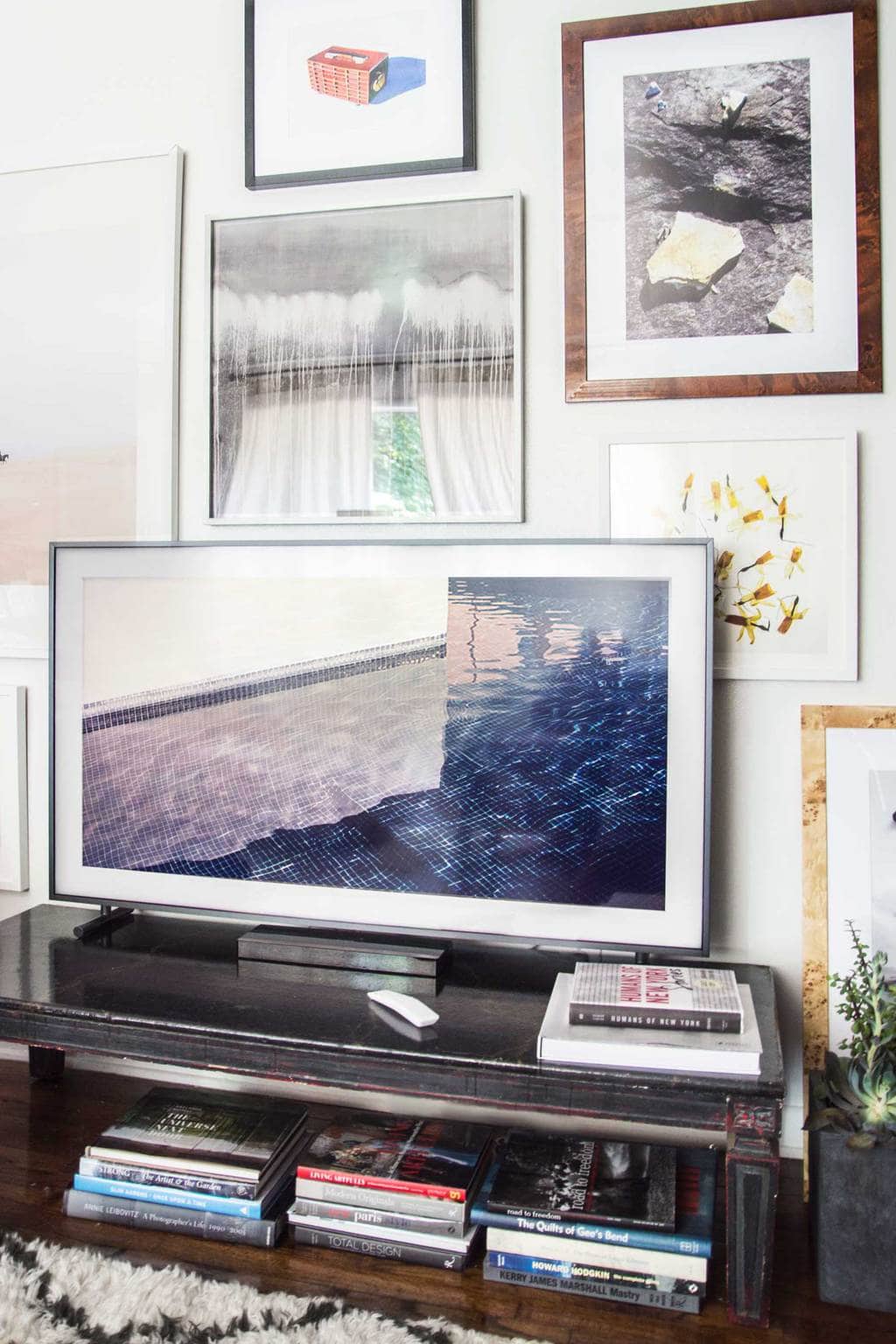 I'm so thrilled to finally have a TV that's elegant enough to be part of the living room decor. While I had to move some furniture around to create this art-filled vignette, I know whichever pieces surround the The Frame will inform the artwork on the screen – and in-turn the style of the room. This new TV is built with subtlety in its inception – to become part of the home rather than stick out. It's a direction for home technology that I'm excited to see from Samsung!
How would you display The Frame to fit with your home décor?

This post is sponsored by Samsung but all text, images, and opinions are all my own. Thank you for supporting the brands that keep Thou Swell running!