To choose the right bedding type, you need to consider the thread count, type of fabric, TOG rating, high quality, and personal comforts.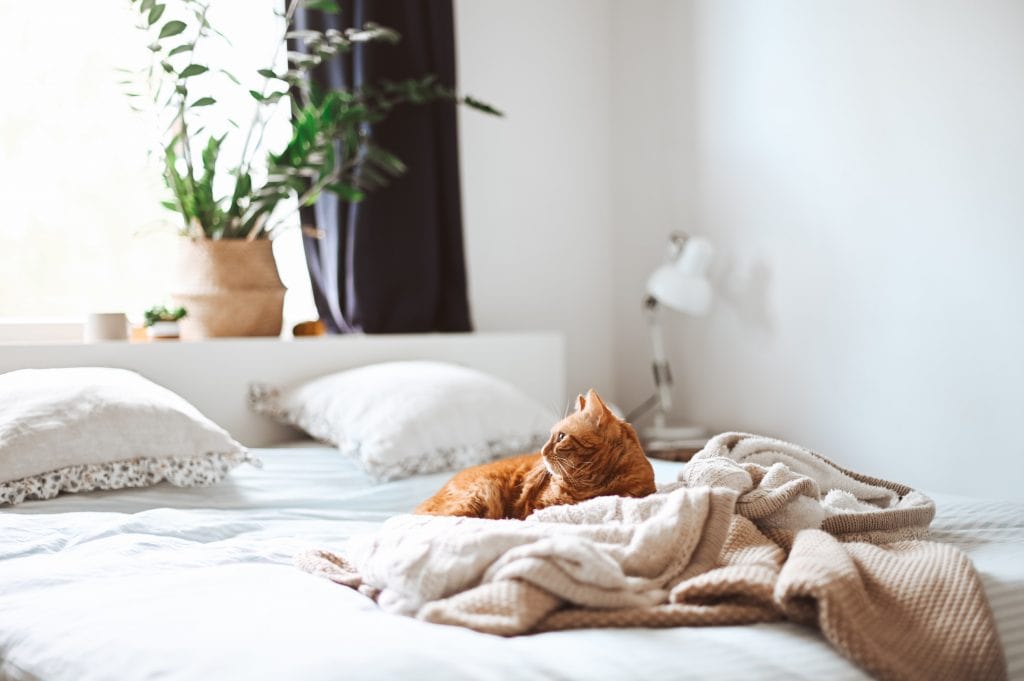 Have you ever woken up in the middle of the night feeling too hot or uncomfortable? The bedsheets you choose to sleep on have a lot to do with that. Broken sleep cycles leave us unrested and cranky for the rest of the day.  Prolonged periods of poor sleep can wreak havoc with our bodies.
To make sure you get the best possible sleep, you need to pick the right bedding type. The perfect bedding can significantly improve your sleep quality by keeping you comfortable throughout the night.
Aside from comfort, quality bedding can significantly improve the look of your room. If you have shopped for bedding, you will notice several different bedding sheet sets.  Since the wrong sheets can be disastrous to your sleep, you really don't want to cheap out and get low-quality sheet sets.
But don't you worry because in this article we will talk about how you can choose your perfect bedding and more.
What Is An Ideal Bedding Set?
Before choosing your bedding, you should first know what is included in the bedding sheet sets. Bedding is vital because it keeps you healthy, affects your sleep quality, preserves your mattress, and can even affect your mood and personal hygiene.
A complete bedding package or set includes all the necessary items like bedsheets, pillowcases, fitted sheets, etc. Most bed sheet sets come in neutral colors such as grey, white, or blue sheet sets.
Bedding collections include mattress covers, flat sheets, fitted sheets, comforters, shams, pillowcases, quilts, and bedding, among other pieces.
How To Choose A Bedding Type?
While choosing a bedding type, try and find the top quality choice even if you have to spend a little extra.
Remember, bedding can significantly impact the quality of your sleep. A variety of factors can influence your choice in selecting the correct type of bedding.
Try to consider the following factors when you are shopping for bed sheets-
1. It Must Be Comfortable
How cozy and warm your bed will feel depends on the type of fabric being used to manufacture your bedding and the fabric's texture.
2. Always Consider Thread Count
The number of vertical and horizontal threads per square inch is referred to as thread count.
The amount of woven threads in a square inch of fabric is measured in thread counts, and it can range from 100 to 1,000. If you are new to this concept, don't panic. All you have to remember is that high thread counts will ensure maximum comfort, breathability, and softness.
But you should not go over fabrics that have over 1000 thread counts for regular use.
Thread count is essential because it makes your bed sheet and other clothes comfortable. For bedsheets, the thread count can range from 200-400. The lower-ranged bed sheets will feel coarser since the weaving of those sheets is looser.
The higher thread-count sheets are more comfortable because they have a tighter weaving and a more consistent softer texture. However, this does not mean that a high thread count is always the best and most comfortable for you. Aside from the thread count, the fabric also matters.
Generally, cotton has a thread count of 150. Mid-range cotton can go up to 180 thread count, and the high-quality ones have a TC over 200. This TC can range up to 1000, and some people think that the higher ones have the best quality and the lower ones are low-quality.
But there are cotton sheets with 200 TC that are more comfortable than other bedsheets with 1000 TC. The tighter the weave, the less breathable some fabrics can get. A few other things make your sheet comfortable, but thread count is the most important one.
The Fabric You Choose
Choosing the right fabric is essential because it will determine if your bedding will be comfortable or not. Also, the fabric also dictates how high or low maintenance the sheet set will be.
There are plenty of options to choose from, but there are three major fabric categories that are most widely used-
1. Cotton
Cotton is much more breathable, absorbent, easy to clean, and durable than other fabrics.
This fabric is better than most other synthetic bedding at absorbing moisture. As a result, it continues to give off a cooler and pleasant feeling.
Cotton comes in many different varieties.
You can pick cotton varieties like Pima cotton and Egyptian cotton. Pima cotton is known for its softness, and Egyptian cotton is strong and durable. Both of them are of high quality and can be very comfortable for most sleepers.
2. Linen
Linen sheets are more costly because this fabric is smoother and more lavish & elegant than cotton fabric. This type of material is also common and tends to last for a long time. They are even colder than average cotton sheets – something to keep in mind if you get too warm at night.
3. Silk
Silk sheets are considered best for winter use because of their ability to keep you warm. Silk sheets need more care than other fabrics. If you maintain it properly, then it might last for a very long time. This fabric is known for the sheen factor it gives.
4. Cooper Infused Sheets
Copper-infused sheets are activated by the moisture that occurs in your skin during sleep. This could make your skin look smoother and younger, and help with minor skin conditions. Studies have also shown that copper fabrics are resistant to aging and are anti-microbial. Copper fibers have also been seen as anti-stress fibers that can help protect against electromagnetic waves that can break down our natural serotonin and melatonin, the hormones that contribute to our sleep patterns.
The Thermal Overall Grade Rating
Thermal Overall Grade (TOG) is a unit of measurement. It is used in the textile industry to indicate a product's thermal insulation.
TOG measures your comforter's capacity based on the amount of humid air or heat it can trap.
If the rating is higher, then you have to assume the duvet would be warmer. And a warm duvet is exactly what you need to get a good night's sleep in this cold winter. However, beware of a TOG rating that is too high.  Most sleep experts recommend a cooler climate setting in the bedroom.  So, a TOG level that is too high can make you uncomfortably warm. 
The TOG rating also indicates the warmth, softness, and weight of a duvet. But all you have to remember is that a higher TOG rating will mean a warmer duvet.
Breathable Fabric
Always keep your ideal sleeping temperature in mind when searching for new bedding. The primary reason for sleep disruption is often due to changes in body temperatures as we sleep.
If you appear to get warm while sleeping, invest in more breathable fabrics like- cotton. If you're susceptible to nighttime chills, you can add at least one synthetic layer to help lock in some excess heat.
It is best to buy breathable fabrics and then add layers to them to make the bed warmer.  It is far easier to add layers to warm up than to cool things down in the bed.
Do Not Compromise On Quality
With so many options and such high stakes, some shoppers might opt for the cheapest alternative as it feels low risk and easy to afford.  However, cheaper quality bed sheets can really ruin your sleep for months to come. 
So, we recommend investing wisely on the surfaces you will spend a third of your life resting! Think of the higher quality bed sheets as an investment into better sleep!
Besides, high-quality fabrics are more durable than the cheaper alternatives. So, in the long run, you may not end up spending that much more as you will not need to replace your sheets that often.
Hypoallergenic Fabric For People With Allergies
Antimicrobial bedding can be beneficial to people suffering from allergies, asthma, etc. The allergies can occur because of the dust collected on your bed.
Selecting hypoallergenic fabrics is critical as they can deter dust, bed bugs, allergens, and mold.
Why Do You Need Quality Bedding?
The right bedding can contribute to a good night's sleep, but the wrong bedding can negatively affect sleep quality and, therefore, your overall quality of life. These are some of the ways that bedding regulates sleep:
1. Can Cause Skin Irritation and Rashes
Some bedsheets can be too coarse, and some are made of stiff synthetic fibers that will irritate your skin after a night of friction your skin endures from these fabrics. This will make it very difficult to get a good night's sleep.
2. Sheets affect your body temperature.
As previously mentioned, the climate control of your bedroom is critical in helping you get quality sleep.
Sheets can warm you up to an uncomfortable level that will then disrupt your sleep. Imagine waking up at 3 am in a pool of sweat, trying to cool yourself down desperately.
When your body overheats, it will want to eliminate water from your body.  So, you will have to get up to pee and rehydrate after waking up in a pool of your own sweat.  What a nightmare that would be!
Picking the right sheet set will avoid overheating while sleeping.
3. Fabric is not warm enough!
This is another point that is important to consider if you tend to have night chills. Maintaining the perfect temperature is all about finding the right balance that works for you. 
Final Thoughts
The right bed sheets can really elevate the luxe factor of your bedroom. It can help you get the most comfortable rests, and when you find your perfect sheet set, you will never want to get up from the bed. So be sure not to comprise quality when searching for the right bedding type.