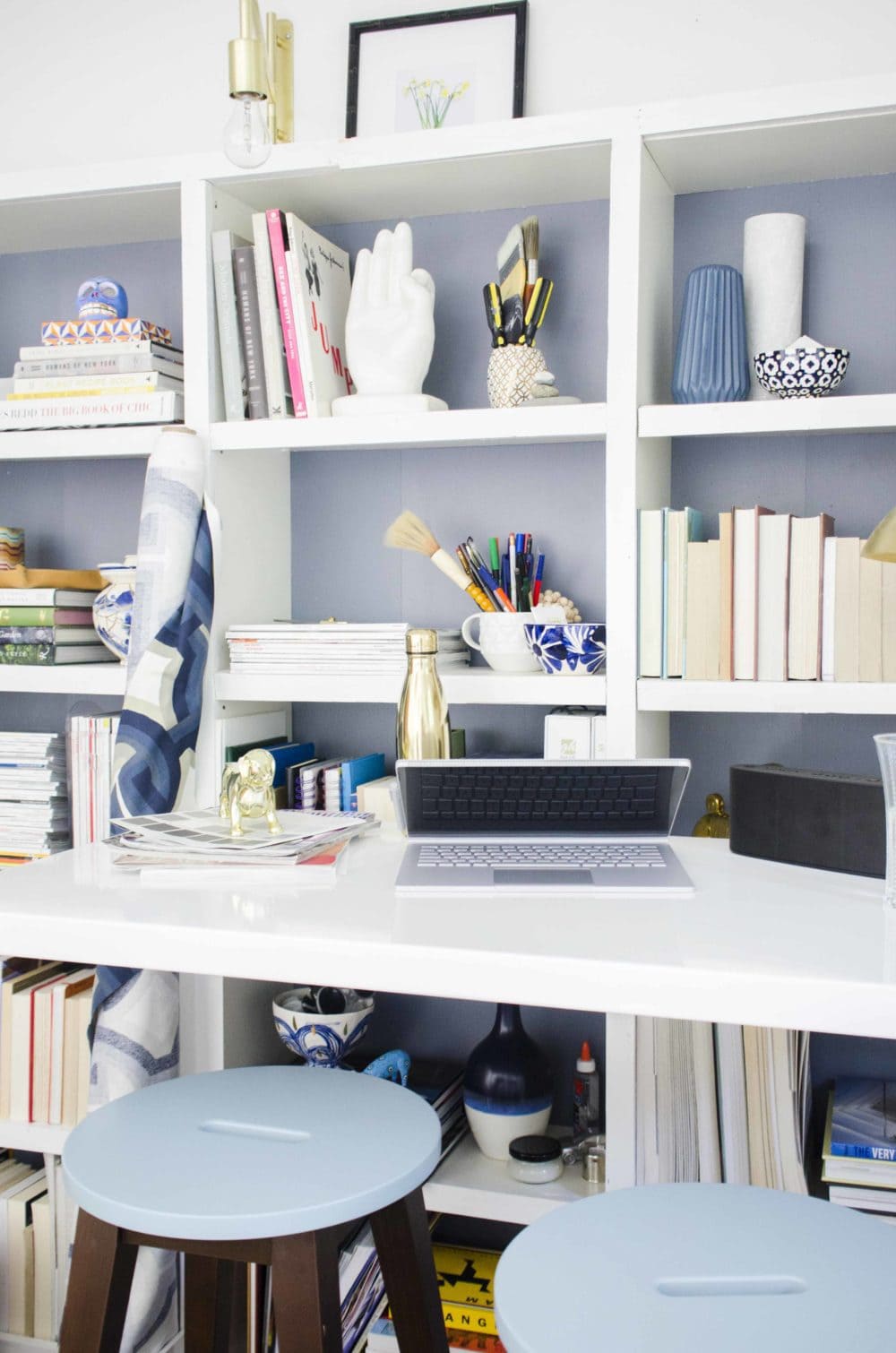 Since January I've been planning on revamping the workspace in my bedroom, and I finally pulled it together with a desk I have been eyeing for a while. I knew I wanted a standing desk, because it gives me the option to easily sit or stand and makes it easy to access my desktop and computer as I am walking by without leaning over. I love a standing desk because my work is closer to me, and closer to my line of vision while standing. Although I'm a little too tall to stand at my new desk and work on the computer, I can easily organize my desk or jot down notes without having to pull a stool out and sit down. My old desk was also a complete mess, as you can see below, so I wanted a lot of organizational room around my desk so I could keep it mostly clear of clutter. That's where my newly-DIY-ed bookshelves came in, which provide room for stashing books, files, and supplies, while also becoming a well-styled focal point in my room. My new stools were also a fun addition to the space, and I brought in gold accents to complement the blue tones with my repurposed sconces (previously featured in my last bedroom configuration) and my posh tripod lamp from Bloomingville.
SHOP THE LOOK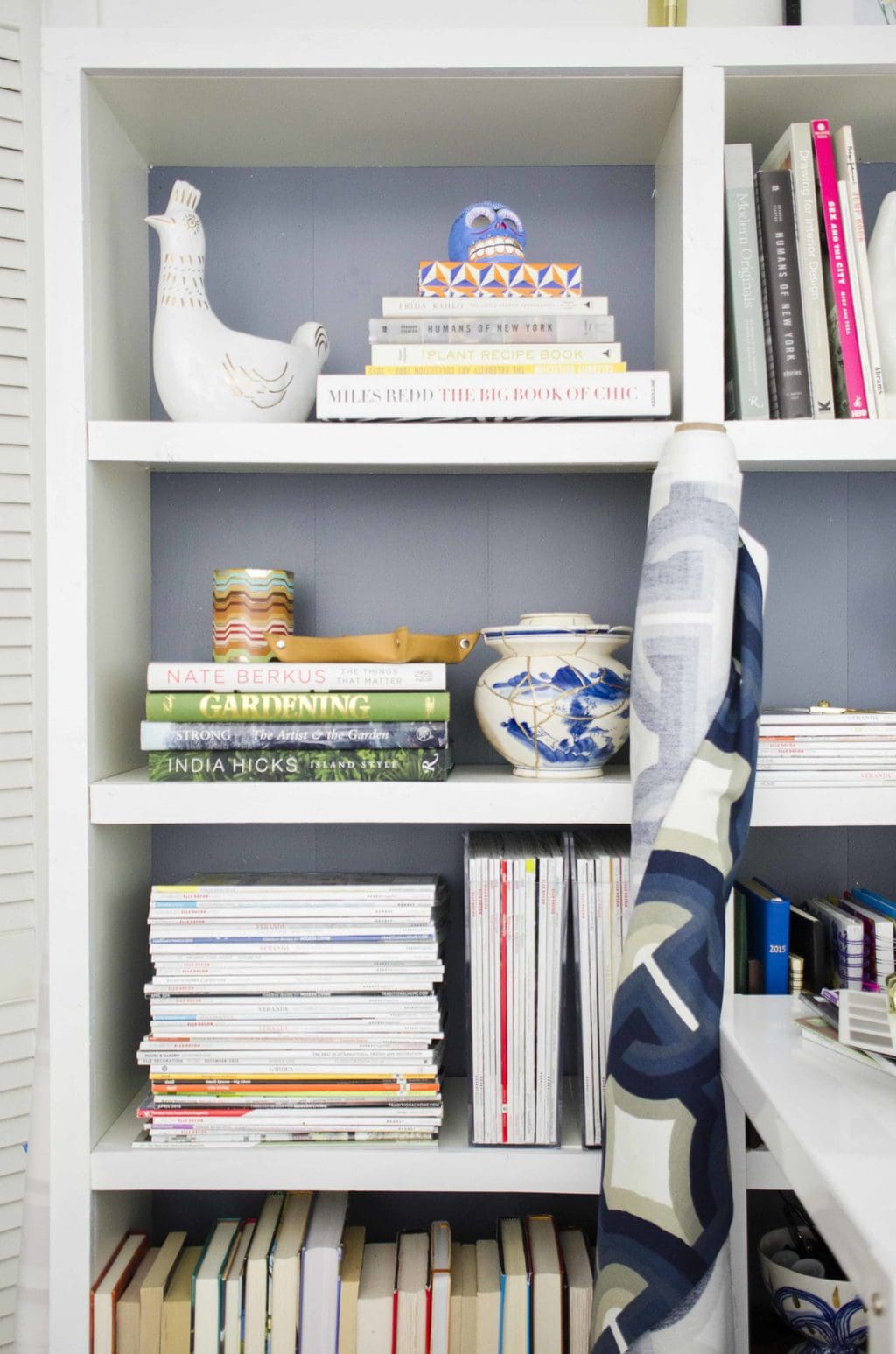 Although the pages-out styling trick for bookshelves may be a bit contrived, when it comes to a mix of fiction and young adult novels with brightly-colored spines, this technique really helps eliminate color-clashing chaos. For my growing collection of design-related coffee table books, I left the spines out and mixed them in with my props and objects like this hilarious chicken vase you might recognize from my Pool House Project and this fun skull I brought back from my trip to Oaxaca. You may also recognize this fabric, which I've got quite a bit of leftover from my last One Room Challenge. On my desktop below, I usually have a stack of the latest shelter magazines, my gold Swell bottle, my Surface Book, and my new VAVA Voom Speaker.
I wanted to use my gold swing-arm sconces again in this set-up, but since I'm also using the table lamp, I decided to mount them above the bookshelves rather than on the front of them. To be honest I haven't plugged them in yet, but I love how they draw the eye up and bring a bit of gold up above the shelves, and I can imagine that they will provide great ambient lighting once they're plugged-in.
I have recently been testing out this VAVA Voom speaker and I'm really loving it so far. It has a lot of power packed into it's portable size – the bass vibrates my whole desk. It will definitely be making its way with me to Ithaca next year! Another great find on Amazon is the Bloomingville page, which I recently discovered has most of their small tableware, accessories, and decor with Prime shipping! Here are links to my blue vase, marble vase, and my gold lamp on AllModern.
I absolutely love how versatile my new desk is – the wheels make it even easier to move around for an Instagram shot or styling in a different room. I looked all over for counter-height tables, and this was my favorite choice (the only other one I found at a similar price-point was this table). With a workspace I truly love, it has become so much easier to concentrate and keep my work area clean and organized! Would you ever consider a standing desk for your office?



Product featured in this post was sponsored by Furniture Maison, Bloomingville, VAVA, and DecoratorsBest, but all text, images, and opinions are all my own. Thank you for supporting the brands that keep Thou Swell running!