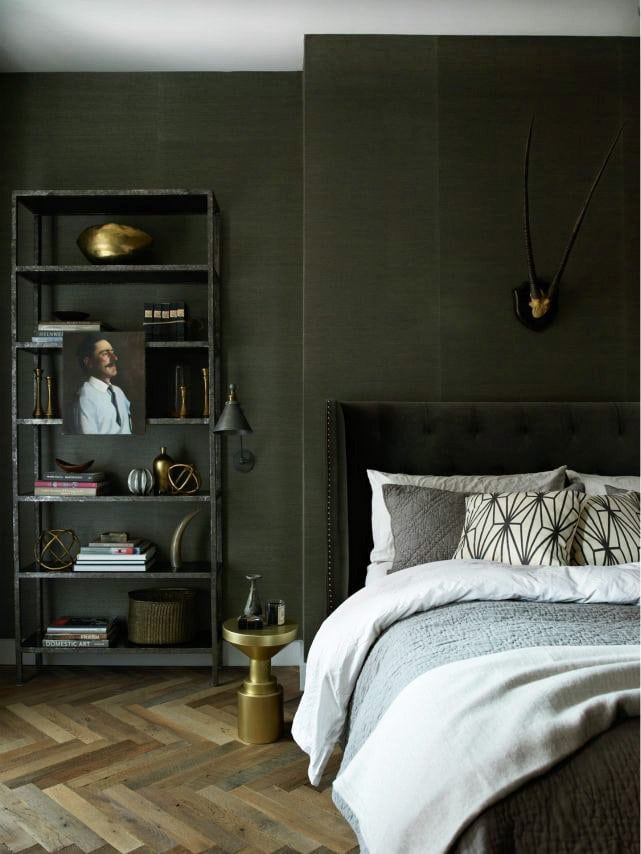 (via Thou Swell – Moody Soho Loft)
I haven't yet introduced Terrace Drive project, but it's a pretty special project to me because it's my boyfriend Murphy's cute apartment in Peachtree Hills. It's the basement unit of a house so the space is very unique – lots of sweet nooks and crannies – but the space is pretty small and the ceilings are low. I am so excited to tackle Murphy's place because it's a bit of a challenge, and those always bring out my creativity! I'm sharing a design board for the bedroom design, which I'm completing with the help of some sleek mid-century inspired decor from AllModern. I love sourcing accent furniture and home decor from AllModern because they have a well-curated selection. See what I chose for this space below.



The bedroom is going to be a cozy cocoon of dark green (more details on that paint color in my next blog post), and I embraced the dark side with the grey nightstands. Murphy loves color, so I made sure to bring a saturated palette to the space with the pop of yellow curtains and the fun bull art print that will hang over the bed. Shop more modern bedroom inspiration below!
shop the look
Keep the inspiration going with AllModern for: Mid-Century Modern Bedroom Furniture, Mid-Century Modern Chairs, Mid-Century Modern Dressers, Mid-Century Modern Beds, Headboards, Duvet Covers, Mid-Century Modern Area Rugs, Mid-Century Modern Bedrooms We Love