(via Architectural Digest)
While trends are always a bit subjective, I love looking out for movements in the design world from experiences like High Point and my perspective from blogging and Instagram. There are a few elements that surprised me, and in these round-ups I like to share specifics (rather than vague styles) that I predict will pop-up more often than usual this year. Many of my predictions from last year I think will continue to persist, especially because design in the home sphere (as opposed to fashion) has a much longer lifespan due to its permanence. In this post I am going to try to highlight my predictions, and in the next coming weeks I will be elaborating on each with more inspiration and product roundups! Without further ado…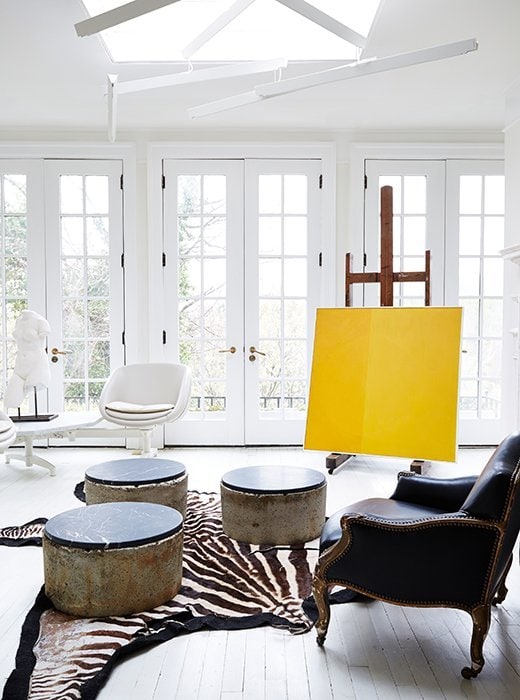 (via
Darryl Carter's D.C. Townhouse
)
SHADES OF YELLOW
/ From mustard to citron, I'm seeing yellow pop-up in joyful accents everywhere. It has never been a favorite color of mine, but since seeing so many fun applications of it in different shades, it is really growing on me. Second to yellow, a lot of design sites are citing green as the color of the year, which has always been a favorite of mine (just look at that gorgeous sectional at the top of the post).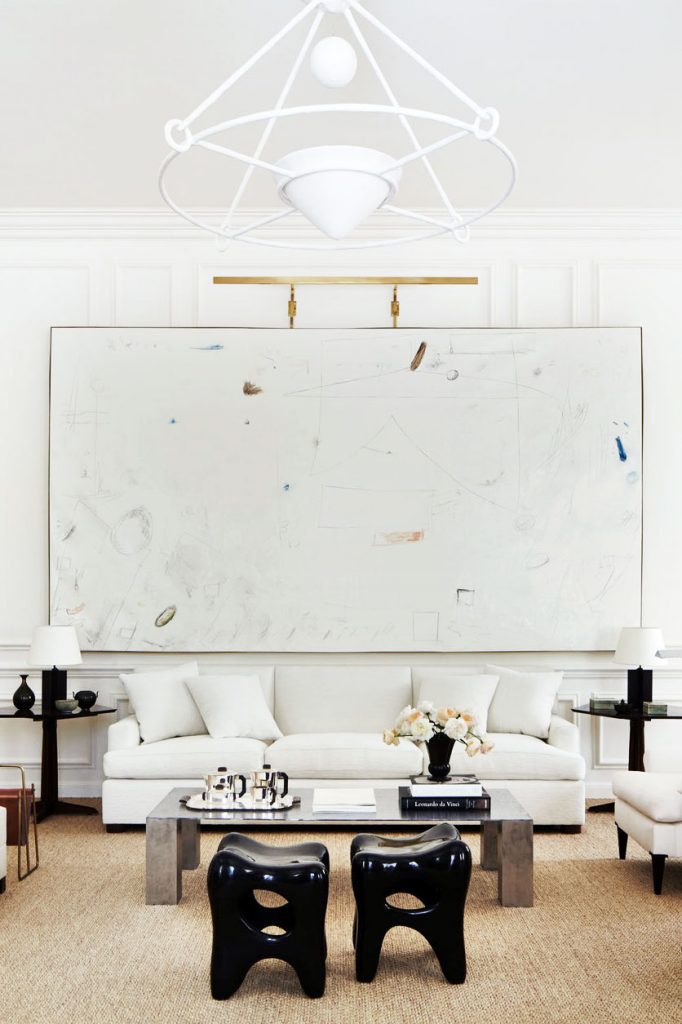 (via Alyssa Kapito)
LARGE-SCALE ARTWORK / I absolutely love the solidarity a large piece of artwork brings to a room, and the confidence it conveys! Gallery walls aren't going anywhere, but I think the demand for accessible, large-scale artwork is growing and the power of a single piece of art is very present in interiors like this stunning living room.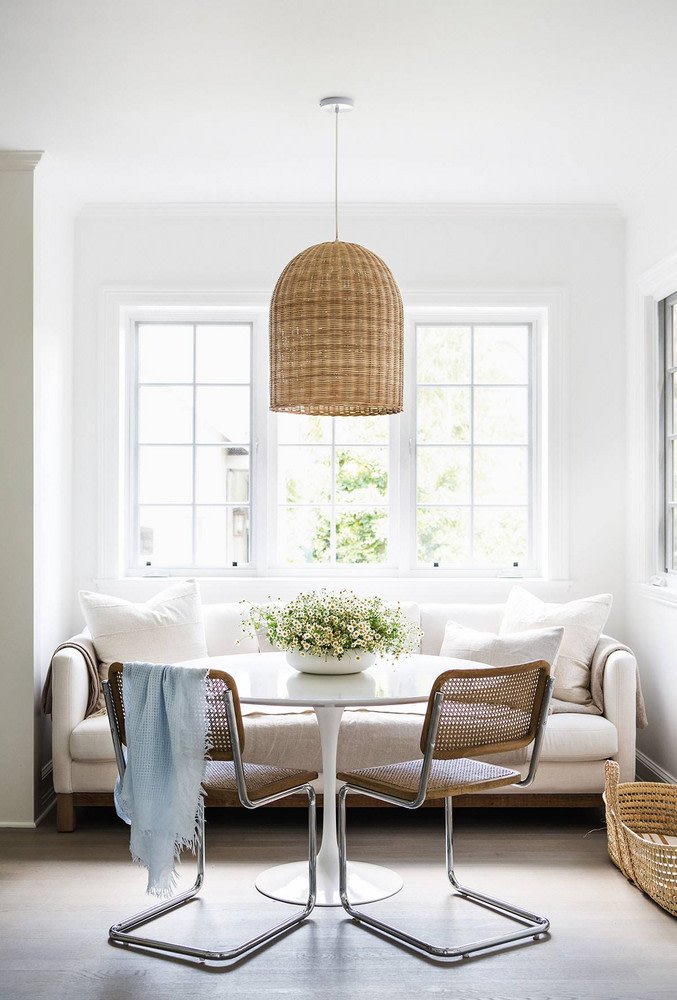 (via Domino)
WICKER CANING / While wicker is a timeless classic, caning usually found on cafe chairs is making its way to more pieces of furniture like benches, headboards, and even storage pieces. While it was already growing in popularity last year, I think it's going to explode this year and you'll be able to find caned furniture at every level of home decor retailer.
(via Art Deco Details in London)
PLASTER TEXTURE / Both white plaster accents, from chandeliers to figurines is big this year, but also plaster on walls and details like range hoods for a unique, handmade look. I love the variation in the texture of plaster and its artisan quality.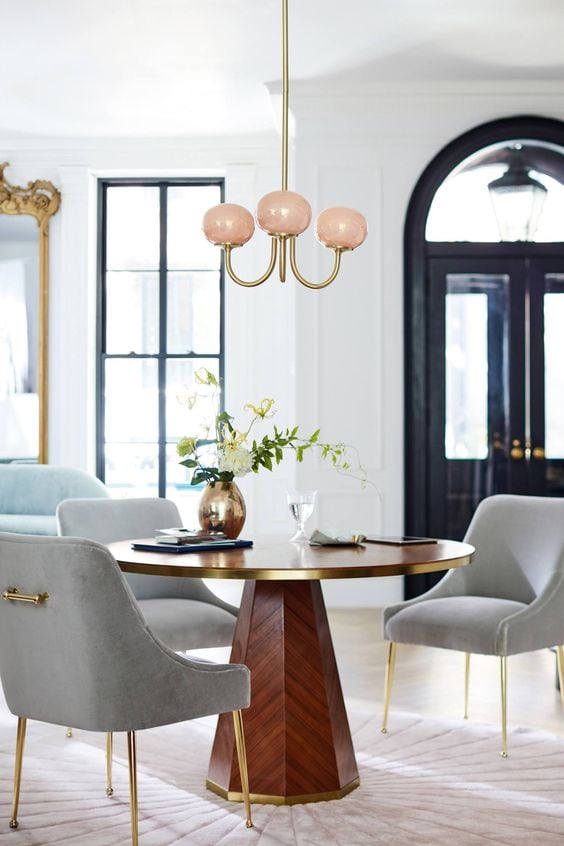 (via Anthropologie)
LED CHANDELIERS / Not only has LED lightbulb technology improved, but the limitations that traditional light bulbs bring to chandeliers has completely redefined lighting design and brought exciting new silhouettes to retailers. There are some fabulous new linear and circular chandeliers that wouldn't be possible without bulbs if it weren't for LED, plus I love this trend because it's eco-friendly!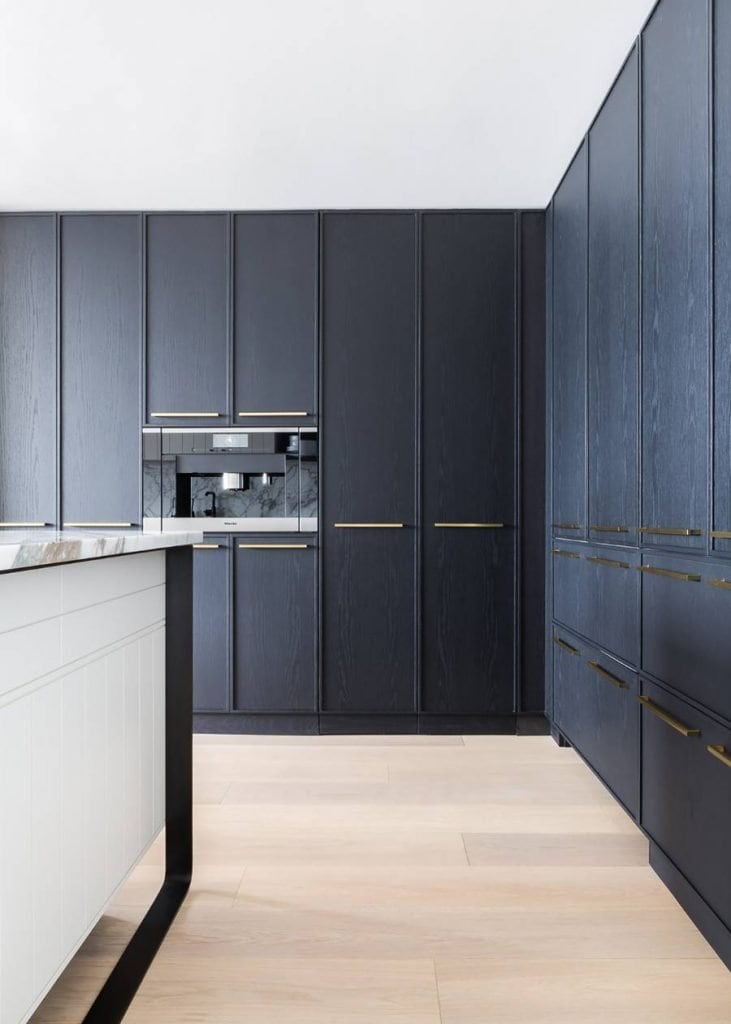 (via Alyssa Rosenheck)
HIDDEN STORAGE / I have been following a renovation in Texas on Instagram with the most amazing hidden kitchen. This trend coincides nicely with the Marie Kondo-effect that has everyone yearning for less clutter and more simplicity. More built-in storage creates function, beauty, and can help keep everything in its place.
(via Rue Magazine)
BURNISHED BRASS / I think polished, glamorous brass has its peak in the mid-century modern craze, and a more unfinished, subdued brass is back in store for more easily integrating this warm metal into a design scheme. I love that it feels more storied the more texture it has, which lends it a more grounded sensability.
(via Black & White in Pacific Heights)
BLACK MARBLE / While the stark contrast of black is something people will often shy away from, black marble provides a softer look with more depth and texture, and carries a lot of sophistication! I love it in small doses like this fireplace mantel, or for an obelisk or other decorative accent in a room. I'm also seeing more black countertops – and one reason may be that they hide stains and use much more easily than white marble.