(via Architectural Digest, photography by Simon Watson)
With a beautiful foundation in traditional furniture and antiques, Madrid-based interior designer Isabel Lopez-Quesada mixes styles effortlessly in her gracious home. I shared one of her projects just last week, a serene villa which sparked my interest in the designer. Upon finding her fabulous home tour, I knew it was another project to share on TS, for the sophisticated mix of new and old and the luxurious pool and patio. In the entryway above, graphic tiles lead your eye down the hall while steel-framed French doors contrast a traditional wooden door immediately to the left. A traditional touch is also contributed by the 18th-century Swedish bench, ingeniously upholstered in black raffia (dark and durable for a well-used entry). A modern pendant and painting add splashes of color.
SHOP THE LOOK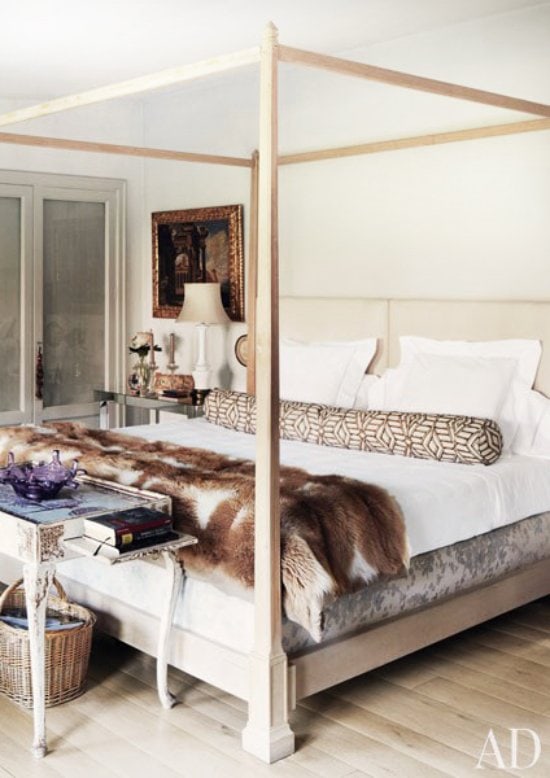 In the bedroom, a large poster bed is made cozy with a long patterned bolster pillow and a fur throw. Quesada designed the bed herself, which is simply detailed at the four feet and tops of the posters. The painted table at the foot of the bed is an another 18th-century Swedish antique.
I have to admit, this lush pool and patio scenario caught my eye before anything else. With all of the doors and windows thrown open to the backyard, the outdoor living spaces feel like a graceful extension of the home's interior. I love the metal daybed (similar to the one in this living room she designed), and the boxwood-lined pool is subtle and elegant. What's your favorite detail in Quesada's home?